I previously wrote a more detailed post on selling feet pics online. If you are interested in learning more about this interesting side hustle for women , check out the post here. However, if you are more interested in learning how to sell feet pics anonymously, then this post is for you!
I get you. Actually, one of the leading concerns among foot models and content creators is how to keep their anonymity and keep their private lives separate from business.
So, I asked a foot content creator to share her tips on how to sell feet pics and make money without revealing her identity. It turns out, it is possible!
In this post, I'll show you the top strategies for selling foot pictures without anyone knowing who you are.
Why Sell Feet Pics Anonymously?
But first, why would you sell feet photos anonymously? Well, here are the reasons:
1. Maintain privacy
People have different views when it comes to foot fetish. Some people think it is normal, while others believe it is inappropriate or taboo.
So, if you are uncomfortable about being judged as a foot model but still want to earn money selling feet pictures, then you could choose to go anonymous.
In this business, you only need to show your feet, not your face or body, and still make money. Going anonymous allows you to make selling feet pictures online without getting swayed by stigma.
2. To ward away stalkers
This is another scenario why you'd want to sell feet pics anonymously. Some customers get too attached to foot models that they dig around for personal information.
You want to avoid this situation at all costs for your peace of mind. By keeping your anonymity, you can be sure everyone on the platform is interested in your foot pics.
3. You are self-conscious.
So you're confident about your feet but not so much with your other body parts. You can still sell feet pictures online discreetly and make money from your pair of sexy feet. The focus is on your foot photos; you don't have to show your body.
This post contains affiliate links. I may earn a commission at NO extra cost to you for your purchases made through these links. Disclosure.
Tips for selling feet pics online anonymously
Many women have found financial success selling foot pics online, so I know it's legit and lucrative. There's a massive demand for foot pictures, from foot lovers to brands needing feet photos for their marketing materials. Follow these tips if you want to sell feet pics safely and anonymously:
1. Choose the right platform
Before you get started selling feet pics online, you must first choose the best place to sell feet photos. You can sell on social media platforms or your website, but the best option is to use a platform dedicated to selling foot pics online.
I have reviewed several websites for selling foot pictures online, and the best of them is FeetFinder. This platform is especially a good choice if you want to sell feet pictures anonymously.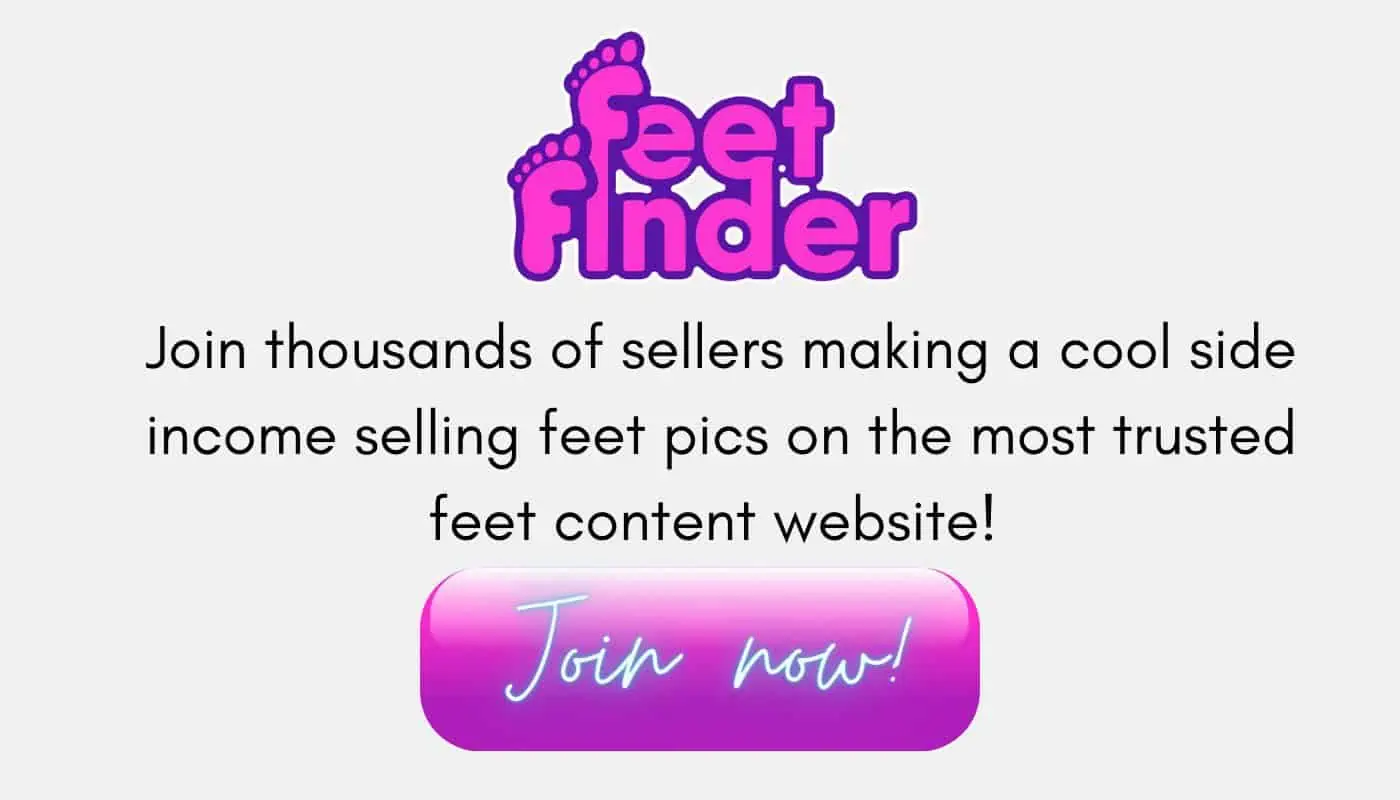 Why FeetFinder?
FeetFinder is an excellent place to buy and sell feet pics online. It has a massive community of buyers and feet pic sellers, which means you have great potential to make more money here.
FeetFinder also places a heavy emphasis on safety and security, and that's why everyone has to be vetted through an ID verification process.
The ID verification process ensures you are who you say you are, but that doesn't stop you from selling feet pics anonymously. FeetFinder is one of the best communities dedicated to trading feet pics. You can only sell foot pics as a seller, and anything else is prohibited.
While some sellers show their faces, that choice is entirely yours. Focus on refining your foot poses and taking high-quality foot pictures without revealing who you are — and you should still make money selling pictures anonymously.
2. Use a dedicated email address for selling feet pics
Another vital tip for selling feet pics successfully is to use a dedicated email address for selling feet photos. Do not use your personal email address when signing up on websites and platforms selling foot photos.
Why is this crucial?
First, it helps keep your inbox clean from requests for custom feet pictures and messages from potential buyers. Logging into your business email address lets you see all the activities, requests, and transactions concerning selling feet pics online in one swoop.
Tip: Do not use your real name when making a new email address, as that would be a dead giveaway to your identity.
3. Use an alias or a pen name
Using an alias or a fake persona also helps you confidently sell pictures anonymously. Your alias should not relate to your real identity, so try to create a creative and memorable one. Also, consider your niche. If you want to sell foot pics in heels or stockings, then think of an alias that's catchy and easy to remember.
4. Do not reveal personal information on your profile bio
Your profile bio should only tell who you are as a foot model or content creator, not a real person. So apart from using an alias, it's also crucial to withhold personal information on your bio, such as your address, phone number, work location, etc. This also helps maintain your safety and privacy when selling pictures online.
5. Be wary of identifying elements on your feet pics
Some people may easily identify you as a feet pics seller even if you don't show your face because of specific identifying elements in your foot images. For instance, foot jewelry like toe rings and anklets, birthmarks, and tattoos can give away your identity. There are ways to hide them while taking high-quality feet pics.
Also, think about even the trivial things, such as that picture or poster on the background and other objects that may lead people to tie you to such feet images. Instead, set up a dedicated environment for taking feet pics.
6. Don't share on social media platforms
You also should not sell pictures of your feet on social media platforms, particularly the ones you use for personal purposes. Otherwise, it would be easy for people to tie two and two together, breaking your anonymity.
Instead, create a new page or account with your alias or pen name, and never post personal information on that account. Use that page to promote your feet pictures online, redirecting potential buyers to your FeetFinder account.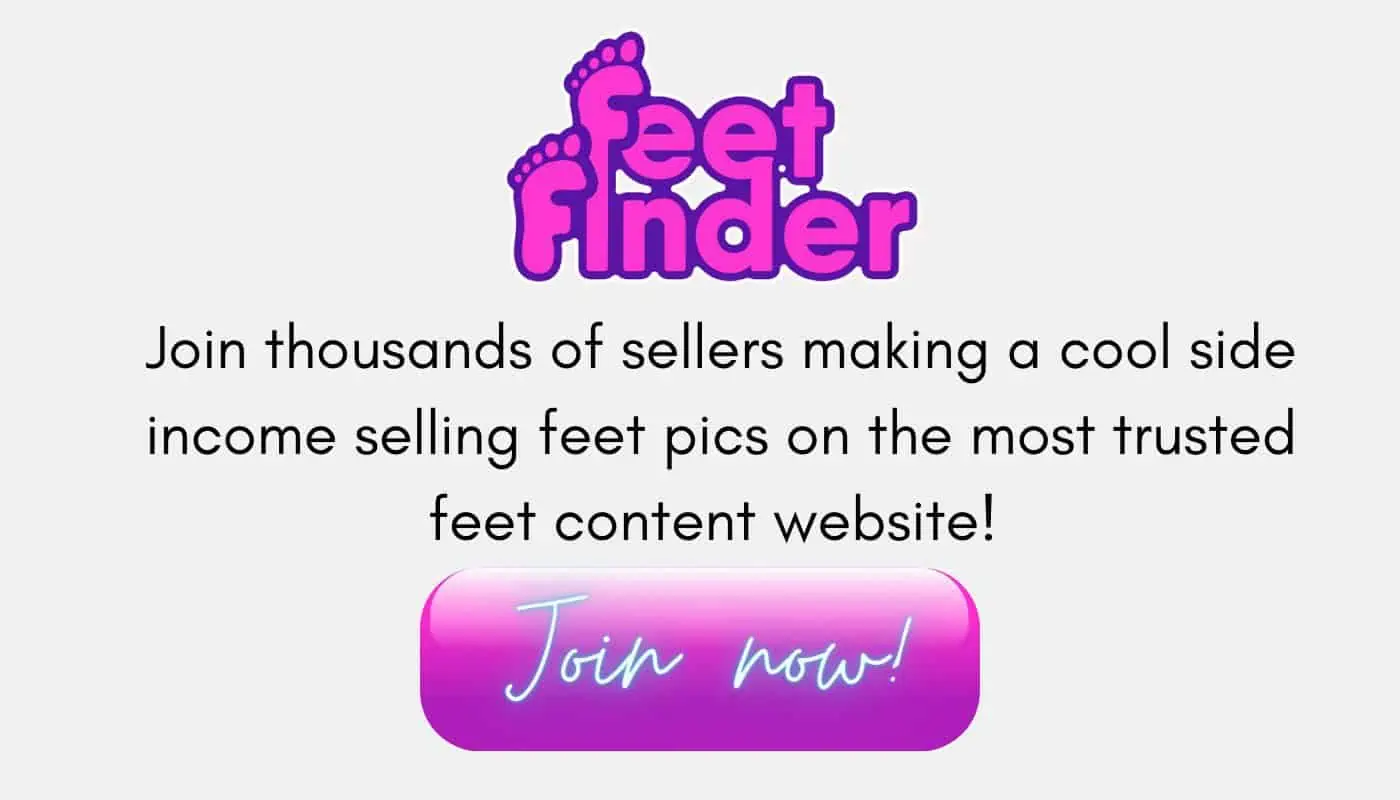 7. Keep communications within the platform
FeetFinder has a built-in messaging platform where you can communicate with potential buyers safely. Whether a buyer wants a custom set of your sexy feet pics or requests specific foot poses, it is essential to remember not to take your communications outside FeetFinder. Communicating to other channels, such as Facebook or Instagram, can easily expose your identity. If a customer asks you to chat outside the platform, politely decline and stand your ground.
8. Use a VPN
One of the wisest investments when selling feet pics online is to use a VPN or Virtual Private Network. VPNs conceal your location or IP address so a stalker can never figure out where you are. Also, VPNs protect sensitive information, such as payment details, which adds an extra layer of protection in running your business.
Never tell anyone
Importantly, you should keep this side hustle only to yourself.
But is selling feet pictures legal? Yes, it certainly is!
But that doesn't mean you should tell people you sell foot photos during your free time. Some people may wonder why you have so much extra cash, and you can quickly devise a convenient excuse for that. Remember not to say you sell foot pictures for money; everything should be fine.
Selling Feet Pictures Anonymously: Frequently Asked Questions
Can you stay anonymous selling feet pictures?
Of course! Staying anonymous is a matter of choice. But for whatever reason why you're keeping it private, you can stay anonymous by selling pictures of your feet by not showing your face, using an alias, communicating only within the platform, and not revealing personal information to your potential buyers.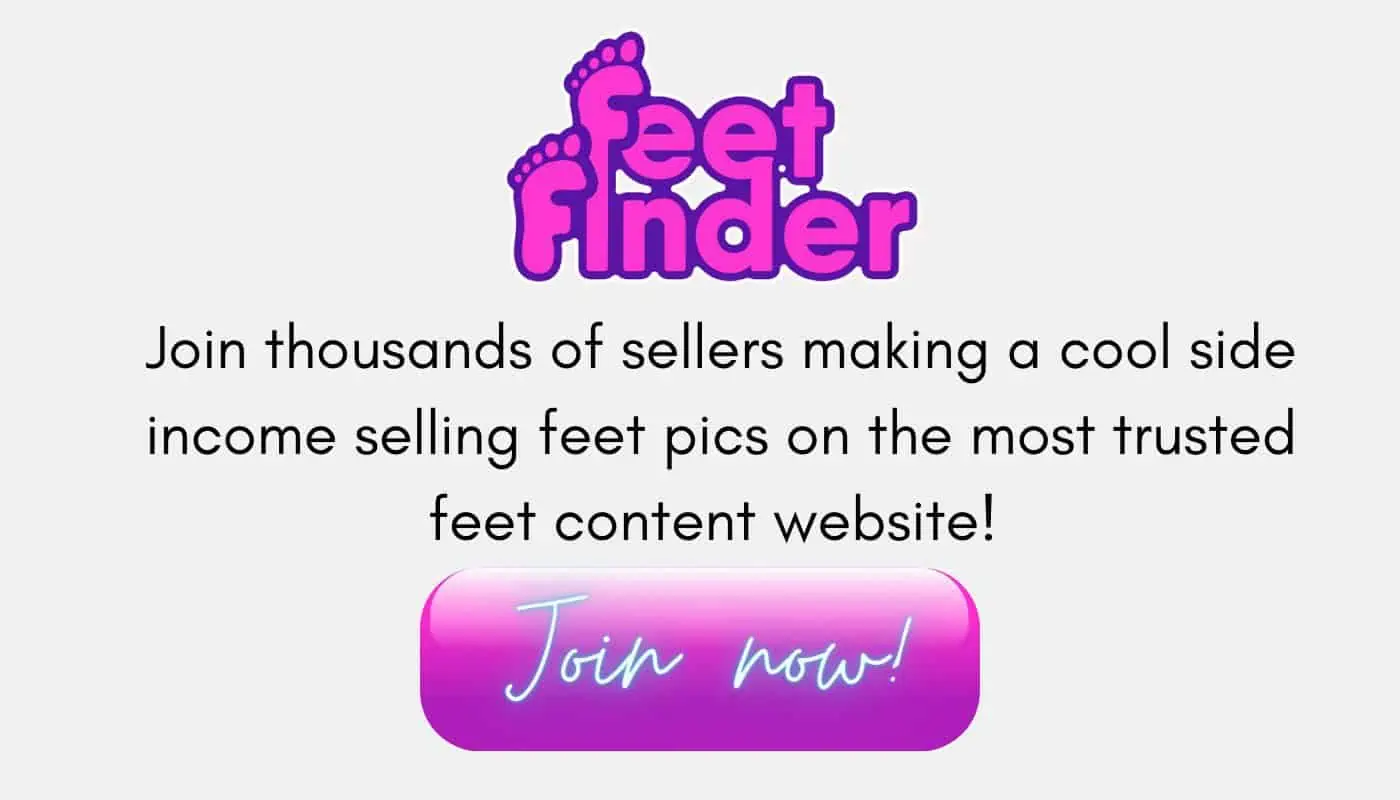 How to sell feet pics without getting scammed?
The best way to sell feet pictures online safely is to choose the right platform. Selling foot pics on a trusted platform such as FeetFinder, where everyone is ID-verified, helps weed out scammers. The foot photos you upload on FeetFinder are initially blurred. If someone wants to buy feet pics from you, those foot pictures are unblurred only after the payment has been made.
Is it a crime to sell feet pics?
Selling feet pictures online is a legit business. The only requirement is that you're at least 18, and selling feet pics in your country is legal. You can legally sell feet pics online if you live in the US, UK, Canada, or Australia. If you need more clarification, check your national or state laws about the legality of selling feet pictures online.
FINAL THOUGHTS
If you are uncomfortable revealing your identity, take another look at the tips above to protect your privacy and maintain anonymity. These tips should help you sell feet pics anonymously and make money.
Are you not yet signed up with FeetFinder? If you are interested to learn more about FeetFinder, I wrote a detailed FeetFinder review here. You might also want to read the following posts to compare FeetFinder with other platforms:
How to Sell Feet Pics on Etsy vs FeetFinder