As it's starting to smell a whole lot like Christmas, maybe you're wondering what delicious and irresistible cheap Christmas desserts ideas to prepare this year. I am too! So, I did my homework and scoured around for recommendations on the best desserts to share this year.
I know that many of us don't have a lot of time to spare for preparing desserts. So, for this list, I've only selected easy-to-make and cheap Christmas desserts that are not only delicious but will also adorn your Christmas dinner table!
Cheap Christmas Desserts Ideas
To get the full recipes and instructions, please click on the link below the pictures.
1. Mini Cheery Cheesecakes
Source: Miss in the Kitchen
Miss in the Kitchen swears by these bite-size cheesecakes that her family loves to bits. It starts with some crushed Oreos at the bottom, a layer of softened cream cheese and whip cream, and finishes off with cherry pie filling on top. Quick and easy to make, these tiny cheesecakes are perfect as Christmas desserts for party.
2. Chocolate Christmas Tree Oreos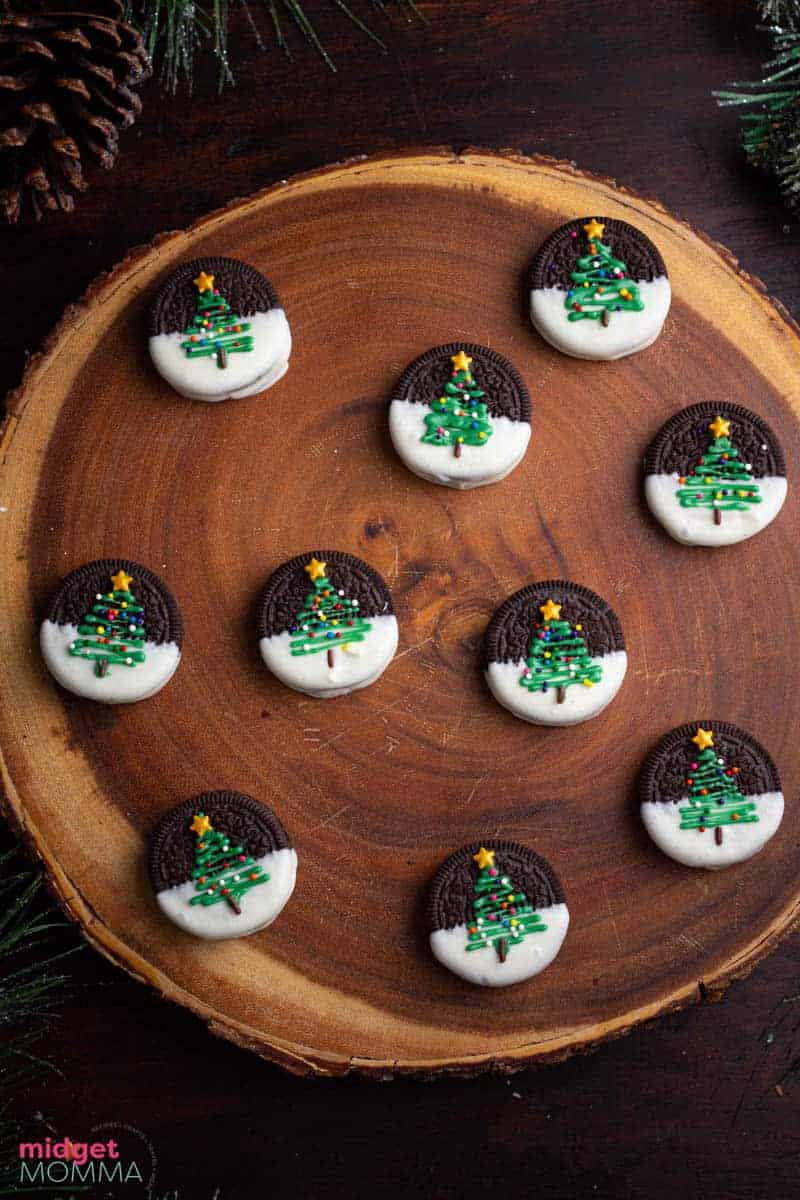 Chocolate Christmas Tree Oreos
Source: Midget Momma
Kids (and adults!) love Oreos even on regular days, so if you want to serve these chocolate cookies on the holidays, you have to step it up a notch. Fortunately, Midget Momma has the perfect idea: turn them into chocolate Christmas tree Oreos!
3. Christmas White Chocolate-Dipped Sugar Wafers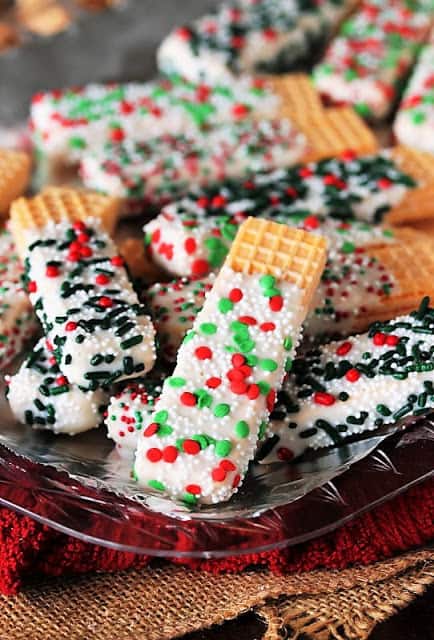 Christmas White Chocolate-Dipped Sugar Wafers
Source: The Kitchen is My Playground
Transform regular wafers into these amazing festive Christmas treats! If you're looking for Christmas desserts easy to make recipes, you should give this one a go. These amazing desserts are so easy to make, you could come up with a batch of them even at the last minute.
4. Christmas Sugar Cookie Bars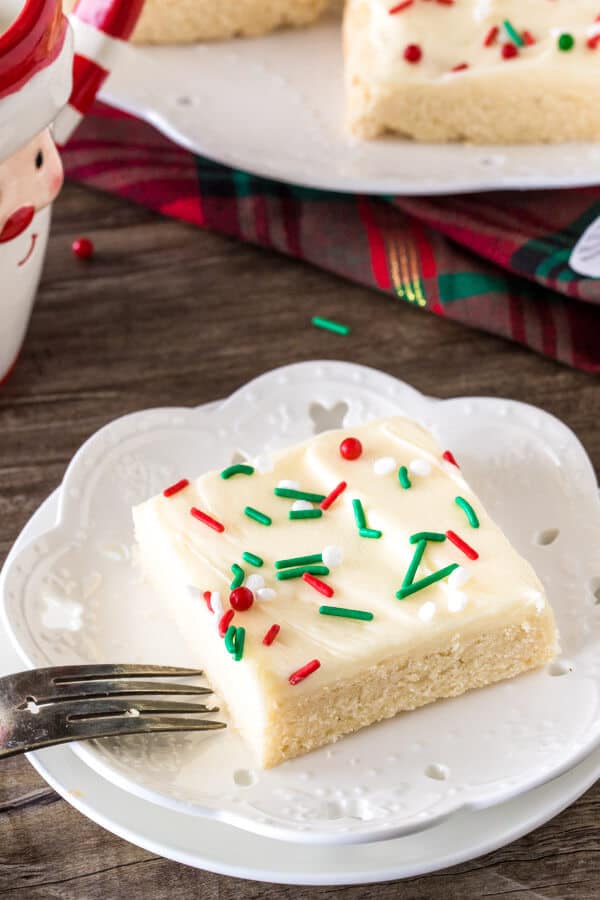 Source: Just So Tasty
This simple and straightforward version of sugar cookies is one of the best Christmas dessert bar ideas. This recipe by Just So Tasty is so easy to follow — no rolling or chilling needed. These cookie bars are extra soft and rich with a yummy layer of frosting.
5. Peppermint Oreo Balls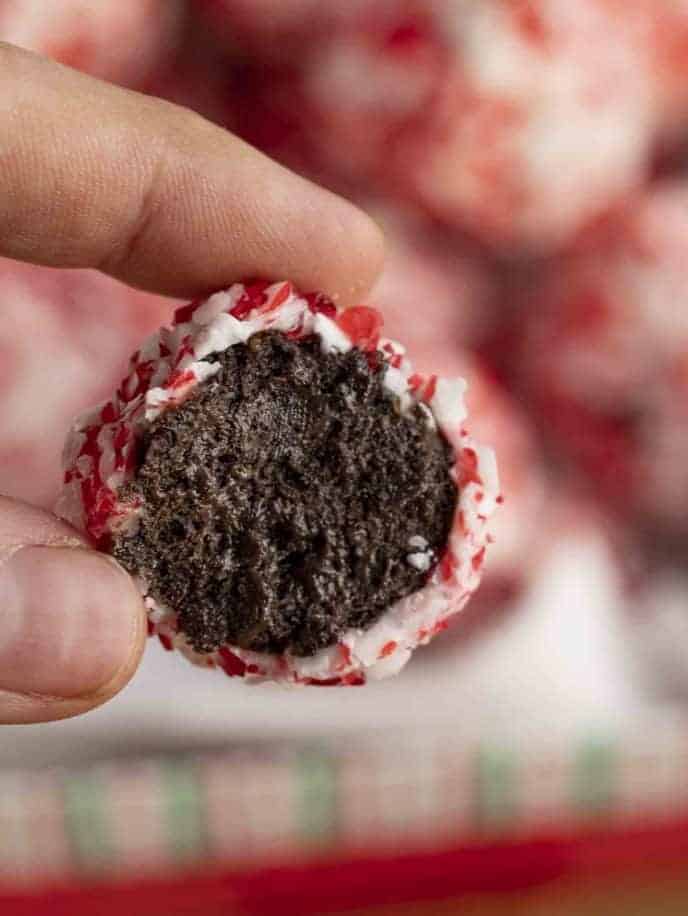 Source: Dinner Then Dessert
Want some Christmas dessert platter ideas that are not just easy, but also cheap to make? These fantastic Peppermint Oreo balls by Dinner Then Dessert fit the bill so perfectly! This is a no-bake dessert that features crushed Oreos formed into balls, and sprinkled with crushed peppermint candies. The colors are festive and the flavors are so wonderful, there's nothing more you can ask for.
6. Whipped Hot Chocolate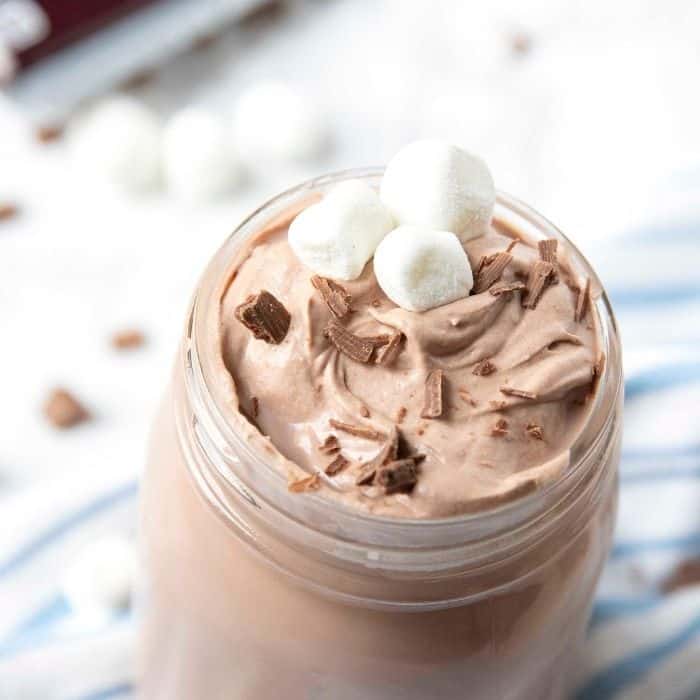 Source: Passion for Savings
Hot chocolate is a Christmas mainstay, so it should always be included in Christmas recipe ideas. As for this hot chocolate recipe by Passion for Savings, all you need are three things: powdered hot chocolate mix, heavy cream and and chocolate milk. You'll have the perfectly blended hot chocolate to warm you up while watching some Christmas movies. Plus, it's good for the entire family too!
7. Candy Cane Fudge
If you need one of The Soccer Mom's yummy recommendations for Christmas dessert tray ideas, you should take a look at her Candy Cane Fudge recipe. This amazing dessert is made with only three ingredients, so it's incredibly cheap and quick to make. The wonderful combination of white chocolate fudge and crushed candy canes gives it a smooth texture on the inside and some crunch on the outside.
8. Christmas Lasagna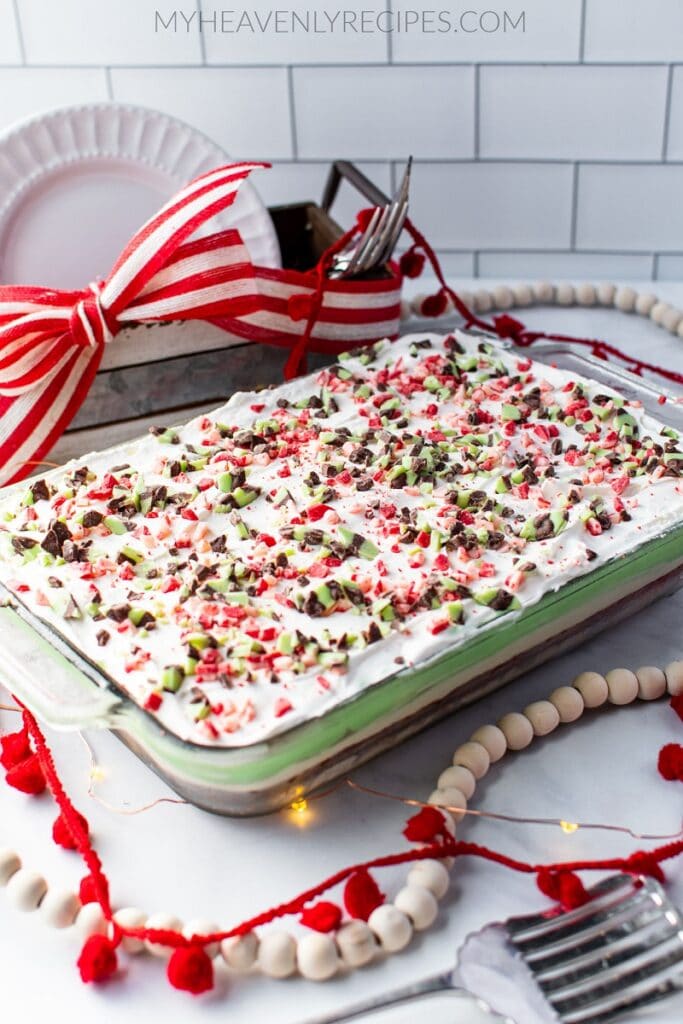 Source: My Heavenly Recipes
My Heavenly Recipes has a Christmassy version of the classic Italian dish, and it's packed with festive colors and yummy flavors. This four-layered holiday dessert may initially look complicated, but it's actually easy to make! It will surely be a hit in your family, old and young alike.
9. Vegan Hot Chocolate Cookies
Source: Purely Kaylie
When it's Christmas, regular cookies won't cut it. So, thanks to Purely Kaylie for her recipe of Vegan Hot Chocolate Cookies, the ordinary cookie gets a makeover. This is hot chocolate transformed into a cookie, featuring a gooey marshmallow center and topped with melted chocolate drizzle. This is a perfect addition to the best Christmas dessert party ideas, especially if you're looking to serve the chocoholics!
10. Mini Christmas Trifles
Source: Cooking with Nana Ling
When it comes to Christmas fruit dessert ideas, you should consider some of these Mini Christmas Trifles. These amazing trifles are so colorful, and that's thanks to layers of strawberries, blackberries, and blueberries (or whatever fresh berries you have available), along with even layers of sponge and cream.
11. No-Bake Peanut Butter Balls
Chocolate and peanut butter just make the perfect combination for Christmas dessert table ideas, and thanks to If You Give A Blonde A Kitchen, there's an extremely easy recipe we could all follow! This is a five-ingredient dessert that requires zero baking, so it's perfect for those who aren't so confident in the kitchen or don't have the time to whip up a complicated dessert. These amazing sweet-and-salty balls will appeal to the tastebuds of all ages, so make sure to make a double (or triple) batch of it.
---
Need more money-saving tips? Check out:
How to Live Cheap: 35 Cheap Living Tips for Families
15 Genius Walmart Hacks to Save Money at Walmart
Money-Saving Hacks for the Big Spender
12. Snow Day Snack Mix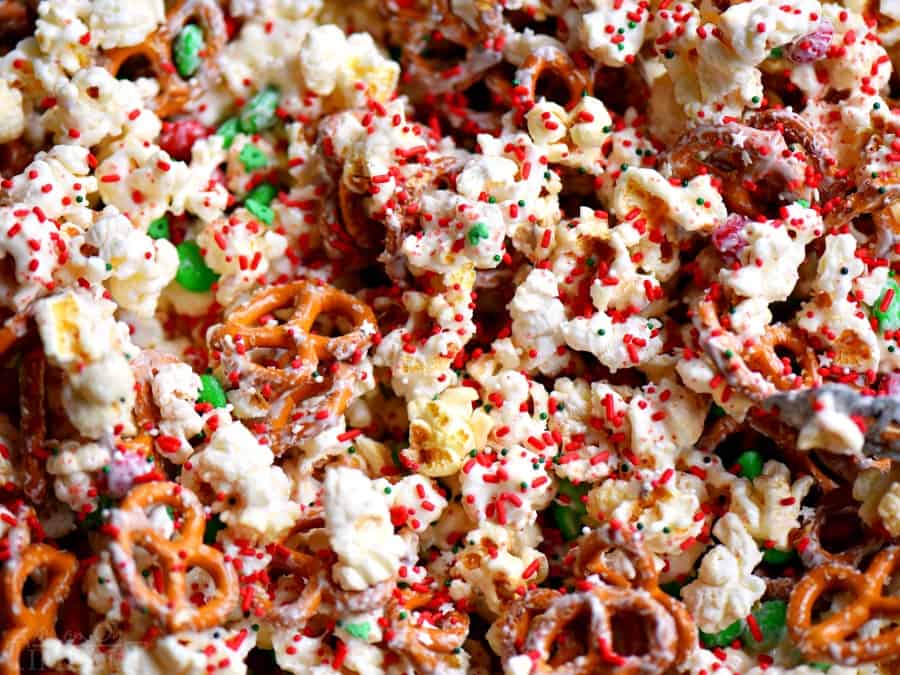 Source: Mom Timeout
With the perfect balance of sweetness and saltiness, the Snow Day Snack Mix by Mom on Timeout is an ideal snack for Christmas parties and watching holiday movies. It not only looks delightful but so easy to make!
13. Hot Chocolate Cookie Cups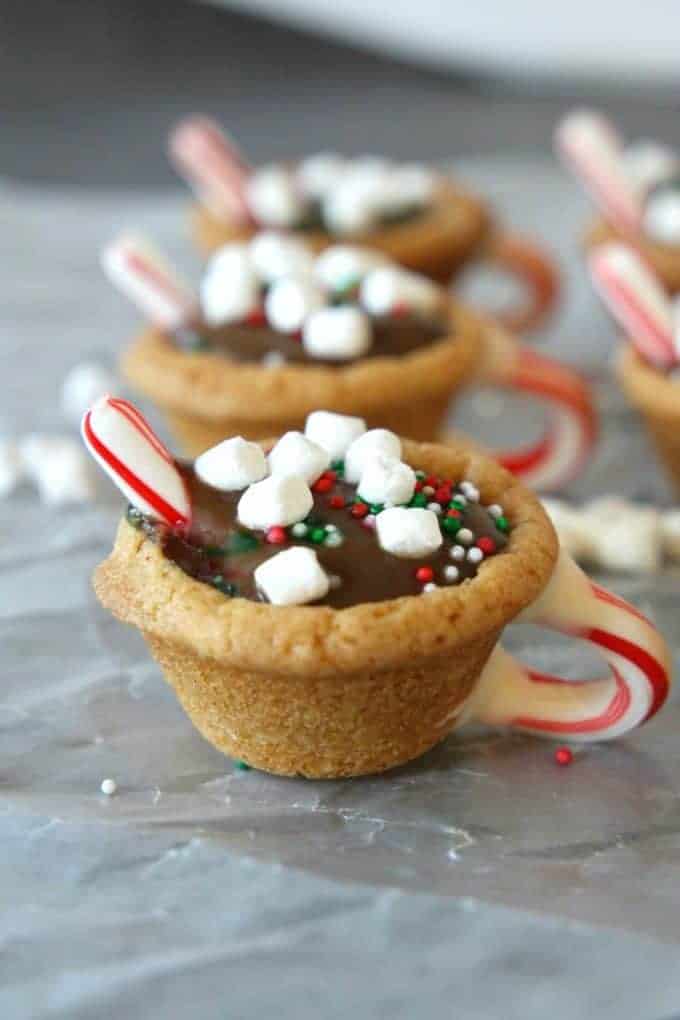 Source: Princess Pinky Girl
Want hot chocolate? Or cookie? Why not have both? With this cheap Christmas dessert idea, you can have both of these obsessions in one dessert! These incredible hot chocolate cookie cups are made of pudding cups and sugar cookie, so they are sure to bring so much fun and joy to your Christmas table. And since the sugar cookies and pudding cups are ready-made, there's nothing much that you need to do than to assemble them together.
I know Christmas can be such a costly holiday, so if you're looking for delicious but cheap Christmas desserts ideas, you should check out the recipes above.
Do you have other Christmas dessert party ideas to share? Let's see them in the comments.
---
Related Posts
20 Cheap Ideas for Christmas Dinner
Christmas Gift Ideas Under $10