Are you looking for the best consignment shops near you? Then, you're in the right place!
Consignment stores are resale shops that offer a wide range of items, from clothes and accessories, to handbags and shoes. Even better, you can find a lot of high-end products that are sold at a lower price than if you would purchase them brand new.
But, do you know the coolest thing about finding the best consignment shops near you? It's that you can make money selling your stuff there, too!
So, if you want to sell at consignment shops near you, then this article is for you.
What is a Consignment Store?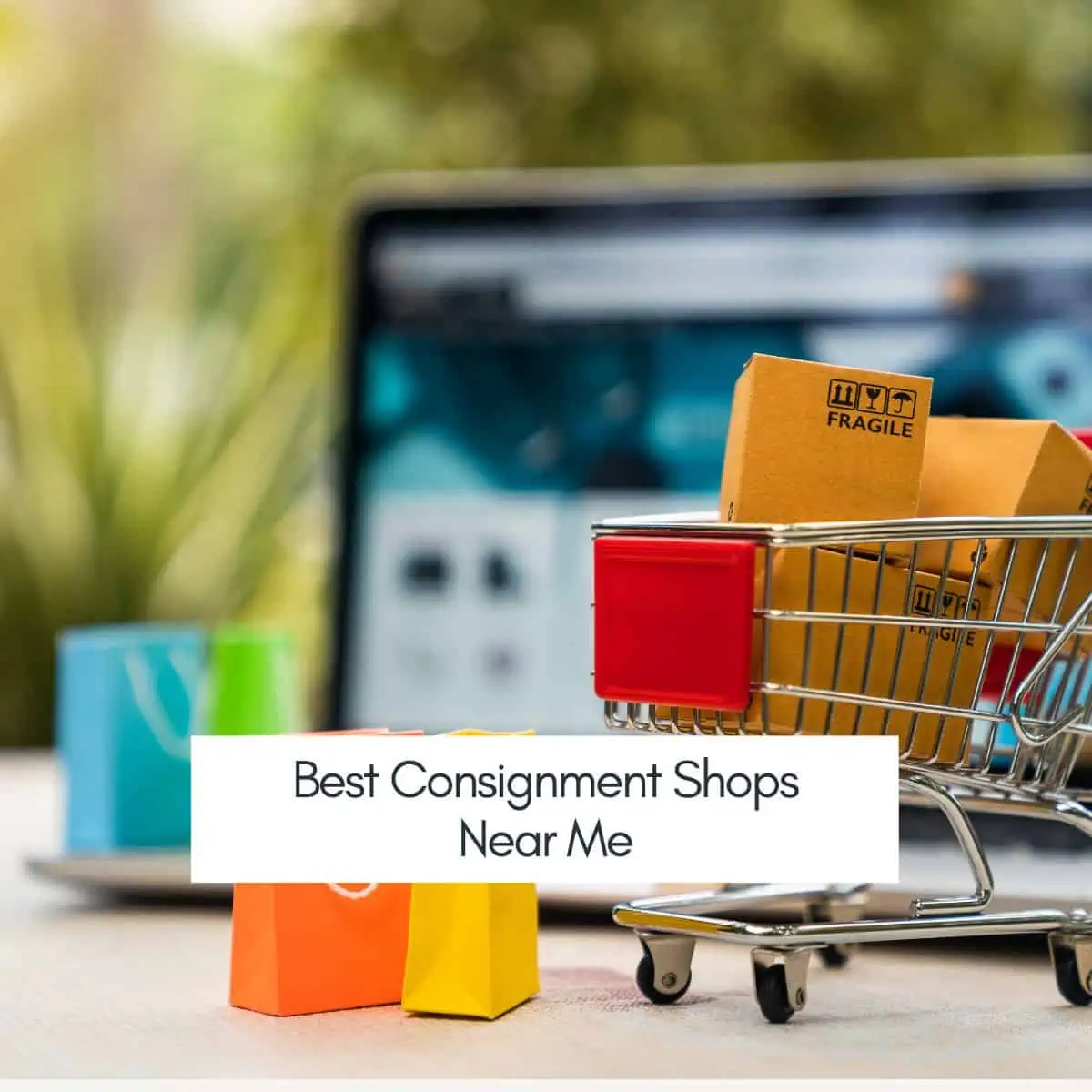 A consignment shop is a resale store where you can sell clothes and accessories, bags, jewelry, shoes, and more. If you have a couple of high ends gently used clothing that you no longer use or have name-brand products like a Louis Vuitton purse, you could consider selling them at a consignment shop near you.
Although most consignment stores are keener on consigning men and women's fashion and apparel, such as clothes and accessories, shoes, and bags, there are also consignment stores that operate in more specific niches, such as furniture, musical instruments, and children's items.
Consignment Shop vs. Thrift Store
Some people mistake that a consignment shop and a thrift store are one and the same. While it's true that both consignment and thrift stores are resale shops that buy and sell secondhand items, there are a few stark differences between these two.
Thrift stores are mostly for non-profit donations of secondhand items. These stores typically divert their profits to charity. The items they sell were received on a donation basis. This means that if you choose to bring your secondhand clothes to Salvation Army, don't expect to make money. However, you might find a thrift store that is willing to pay you a small amount in exchange for your items.
Unlike thrift stores, consignment shops are resale shops where you actually get paid for your items. The shop owner takes your items and puts them up for sale on your behalf (you don't have to bother about marketing them or talking to customers). You get a percentage of the final sale price once the item is sold.
So can actually bring your items to both thrift stores and consignment shops. But if your end goal is to make money, you should choose to sell them at a consignment shop near you.
As a buyer, you could shop at both consignment stores and thrift stores as they both sell clothes, bags and accessories, shoes, and other apparel at low prices.
How does consignment work?
Found consignment shops near you? Great! You could start decluttering your stuff and figure out which ones you could sell at a consignment store. But before that, you must understand how consignment works.
You, as the consigner, will round up the items you want to sell. You bring them to a consignment store.
The store owner or retailer accepts your items for consignment. You agree on how to split the earnings after setting the sale price.
You get paid based on the percentage you have agreed upon with the retailer. Some retailers also offer store credit which you could use to pay for when you shop at their stores. Some consignment stores also offer to sell your items for a flat fee.
You pick up the items if they don't sell upon the agreed period, at no charge to you.
This is the typical operation among most actual consignment stores, but the rules can vary from one store to another. If you decide to sell, it's best to look around consignment stores near you and ask about their fair price rates (or the percentage of the sale is split up or whether you get store credit or pay a flat fee).
This way, you can gauge how much you can potentially make from your secondhand items and pick the store that offers the best deal.
This post contains affiliate links. I may earn a commission at NO extra cost to you for your purchases made through these links. Disclosure.
What are the Best Consignment Shops Near Me?
If you're looking for consignment stores near you, then here are the top consignment shops you should keep your eyes on.
1. Once Upon a Child
Parents know that kids outgrow their kids quickly. So many people, especially moms, turn to consignment stores to find gently used clothing, toys, and shoes for kids. And Once Upon A Child is a consignment store that serves this kind of market.
Once Upon A Child is part of the Winmark Corporation, operating over 380 store locations in the US and Canada. So if you're looking for Once Upon A Child consignment stores, there's probably one near you. You can buy and sell almost all sorts of baby and kids items, from shoes to clothing, baby gear, books, and toys.
2. Style Encore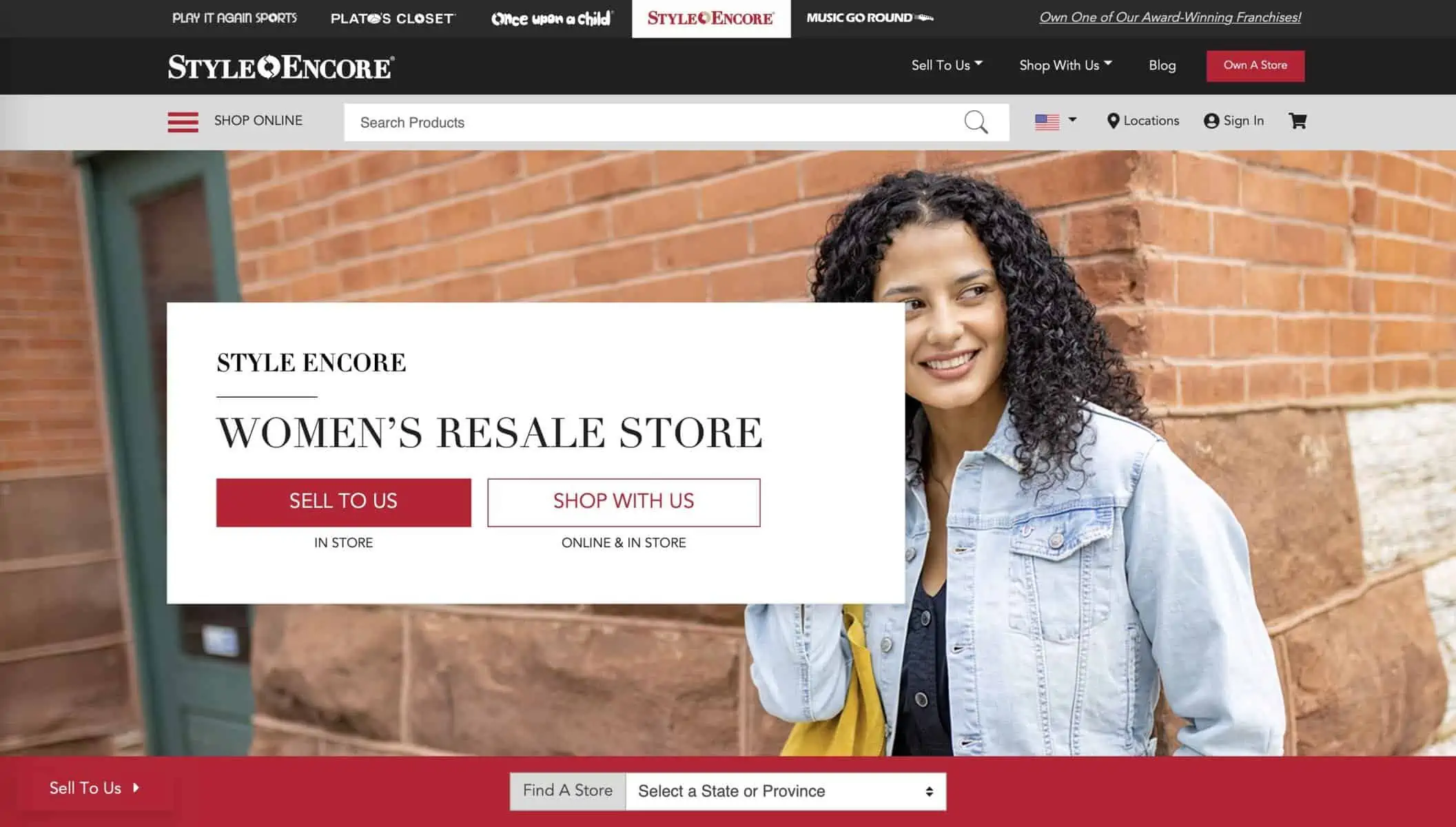 Style Encore is one of the best consignment stores focusing on buying and selling women's clothing, shoes, and accessories. This local consignment store accepts nearly all kinds of gently used women's clothes, like tees, pants, leggings, outerwear, blouses, and more.
If you have accumulated a lot of clothes and want to get rid of them and still make money, selling to a local consignment store like Style Encore is the way to go. Just show up with your items, get an offer, get paid with cash.
Easiest Ways to Make Money Online
3. Buffalo Exchange
Buffalo Exchange is one of the most prominent fashion-focused consignment stores in the US. It has over 40 stores in the country where you can buy and sell used clothes and accessories.
Selling clothes and accessories to Buffalo Exchange. Simply pack them up, bring them to one of the stores, agree on the price, and get paid with cash right away. You could also mail your items for free if there's no store near you. You can either opt to get paid 25% in cash of the sale price or 50% store credit.
As with most consignment stores, Buffalo Exchange accepts high end gently used clothing and accessories
4. Plato's Closet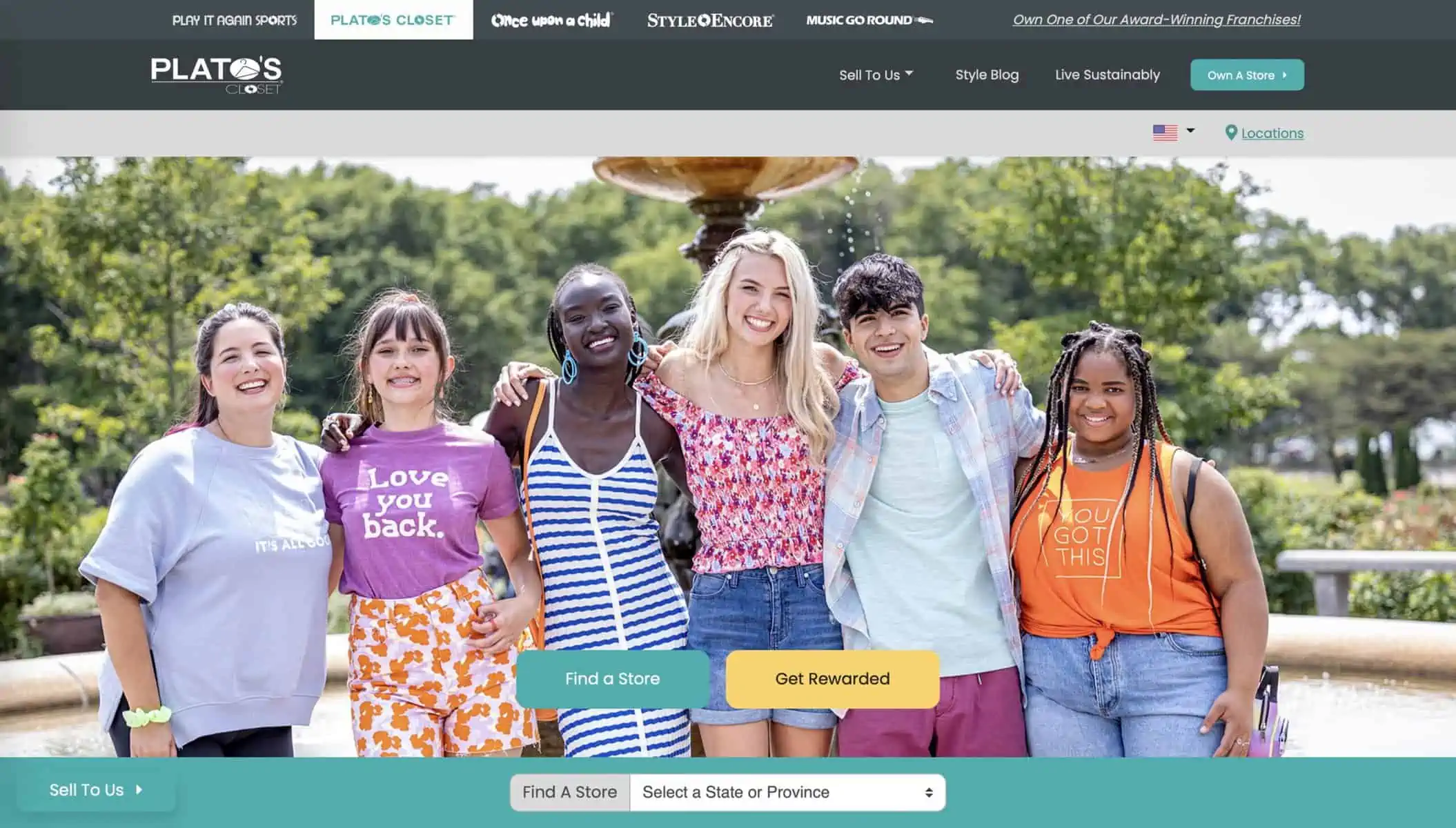 Plato's Closet is also an excellent place to sell second-hand, name-brand clothes and accessories. This consignment store buys all sorts of branded apparel of all styles, whether these are seasonal or daily wear, that appeal to young adults.
Simply bring your items to a consignment store near you, and the store staff will check them based on their brands, condition, and saleability. You receive an offer, and if you are happy, you get paid with cash on the spot.
5. Crossroads Trading
Crossroads Trading is an actual consignment shop with a few locations in New York, San Francisco, Texas, and Colorado. You can sell items to Crossroads trading, whether they are high-end apparel, designer clothing, or everyday branded items, as long as they are in good condition.
Crossroads Trading is pretty much like Buffalo Exchange and Plato's Closet in that you can bring the clothing you wish to get rid of to one of its locations.
Alternatively, you can sell clothing and accessories by mail. You get a prepaid shipping label, and you ship your items to one of the locations, and then you get paid with either 50% store credit or 30% cash of the final price.
6. Wasteland
If you live in California, one of the best consignment shops near you is The Wasteland. This consignment store specializes in one-of-a-kind clothing, shoes, accessories, and other items. If you have vintage clothes that you want to sell, then find a Wasteland consignment shop near you.
You can sell gently used clothes to Wasteland easily and quickly. Just show up in one of their stores, sell your clothes, and receive an offer of up to 35% of the total price. The Wasteland decides on which clothes to accept, depending on their inventory, condition, cut, style, and fabric. You must be at least 18 years old and provide identification if you wish to sell clothes to Wasteland.
7. Beacon's Closet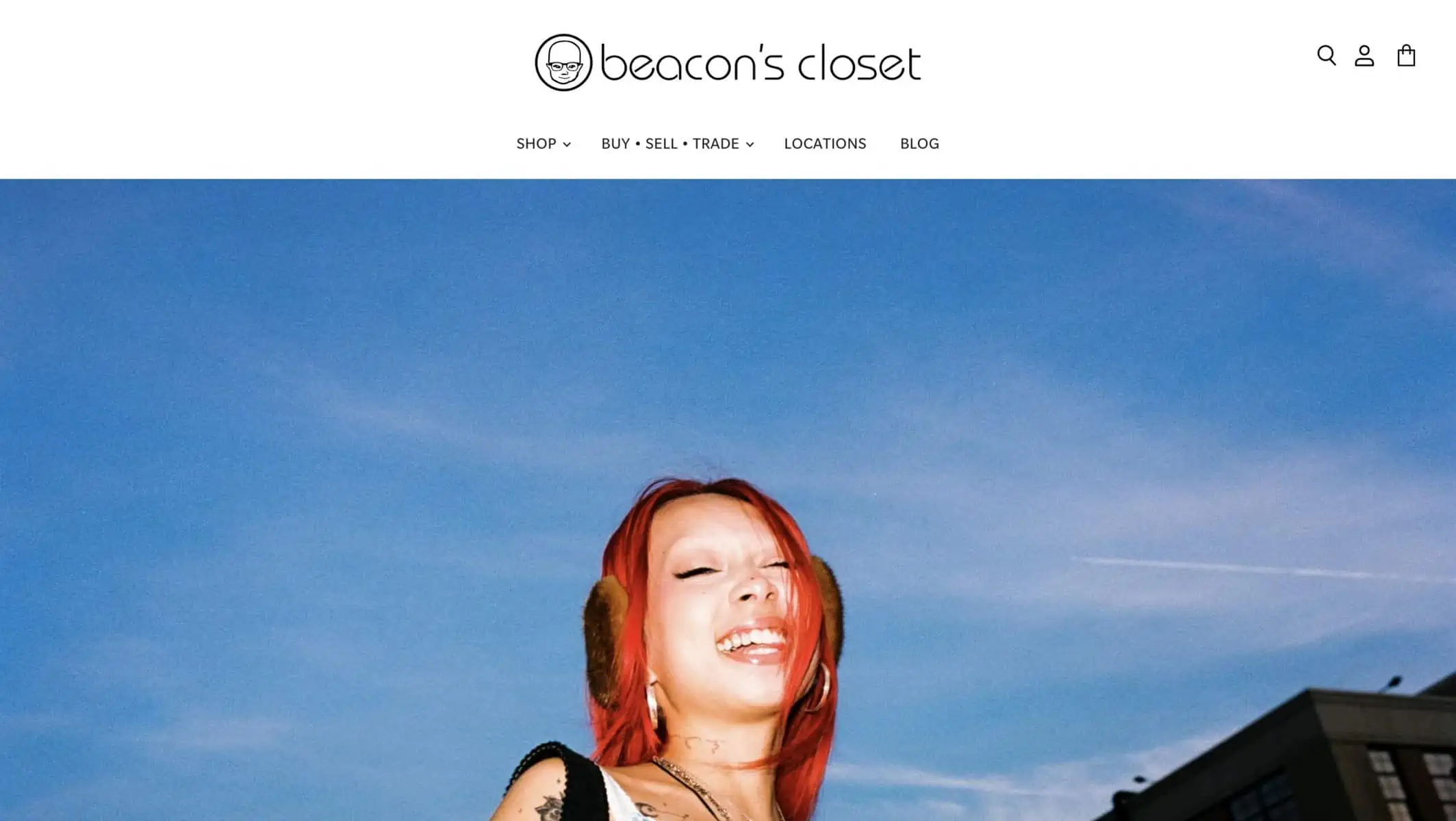 If you live in New York, one of the best local consignment shops near you is Beacon's Closet. You can buy or sell gently used clothes here as long as you are at least 18 years old and have a state-issued valid ID.
Beacon's Closet offers the highest payout rate to people selling clothes to them: up to 30% in cash and 50% in store credit. You can drop off your items at any of the Beacon's Closet consignment shops, and you'll get paid through cash or cashless options on the spot.
Best Online Consignment Shops
Apart from brick-and-mortar consignment shops where you can buy and sell clothes in-store and in-person, you could also sell items online. Nowadays, consignment shops have apps and websites that allow anyone to buy and sell used clothing, shoes, and accessories.
So if you want to get rid of your used clothes and make money by selling them, then you should check out these best online consignment stores.
RELATED POSTS
8. Tradesy
Tradesy may not sound as familiar as Buffalo Exchange or Plato's Closet, but it's still one of the best consignment stores to sell online, even though it started a little later.
In fact, it has become one of the best consignment stores for second-hand designer clothes and accessories. You can browse through numerous selections, whether you're looking for a Zimmerman dress, a pair of Dior boots, or a Louis Vuitton bag.
It's super easy to sell your clothes on Tradesy. Simply list up the items you want to sell, set your price and get up to 80% of the sale price when they get sold. Tradesy applies a flat fee for each sold item ($7.50 for items less than $50 and 19.8% for items priced over $50).
9. Vestiaire Collective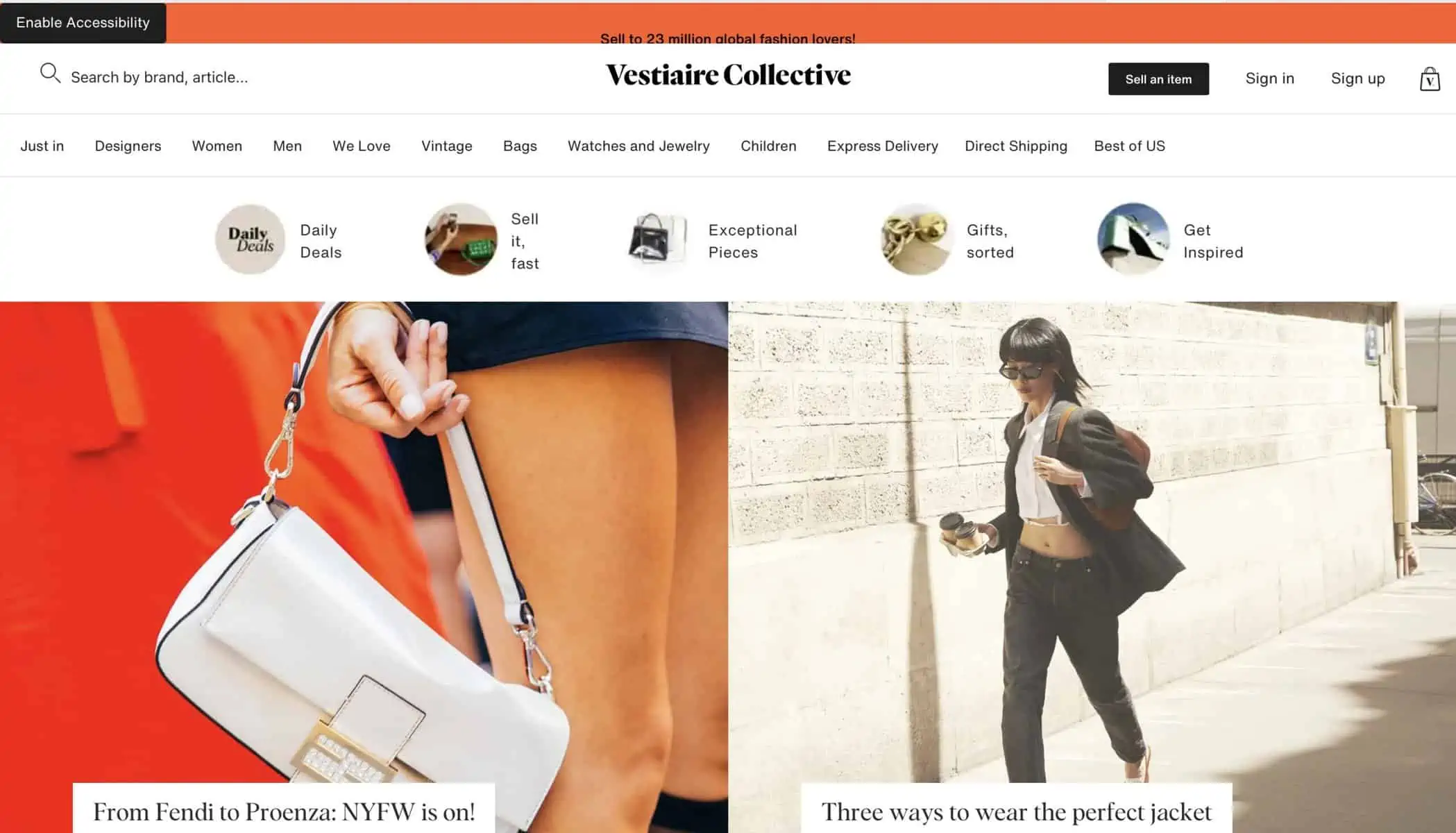 Vestiaire Collective is an online consignment shop that specializes in the buy and sell of designer clothing. It is not just an online consignment shop, though, but also a vibrant community consisting of millions of buyers and sellers.
Vestiaire Collective is a great place to sell your clothes, especially high-end and designer ones. To start selling, simply download the app to your phone, take lots of pretty pictures and provide descriptions. You ship your items to Vestiaire Collective when they get sold so they can be checked for authenticity. Vestiaire then ships the products to your buyers, and you get paid.
10. Poshmark
Poshmark is probably one of the most popular online consignment shops where you can sell your clothes and make extra money. The Poshmark app or site offers a crazy selection of lightly used clothes, shoes, and accessories.
You can start selling on Poshmark by downloading the app or logging into the website. Take lots of beautiful photos of the items you sell, list them up, write a description, and set your price. Poshmark takes a flat rate for each item sold ($2.95 for items less than $15 and 20% for items more than $15).
If an item gets sold, you print the shipping label and send the product to your buyer. Once the items are confirmed from your buyer's end, your earnings are released into your account.
11. The RealReal
The RealReal is one of the best online consignment stores that cater mostly to designer and luxury clothing. Think along the lines of Hermes, Chanel, Prada, Gucci, and Louis Vuitton. You can make money from your high-end clothes, kids' clothes, jewelry, and more.
To start selling, sign up for an account on The RealReal. Now pack the stuff you want to sell and send it to The RealReal. The company has a dedicated staff that checks for authenticity. When your items are sold, you get around 40-85% of the sale price.
12. thredUp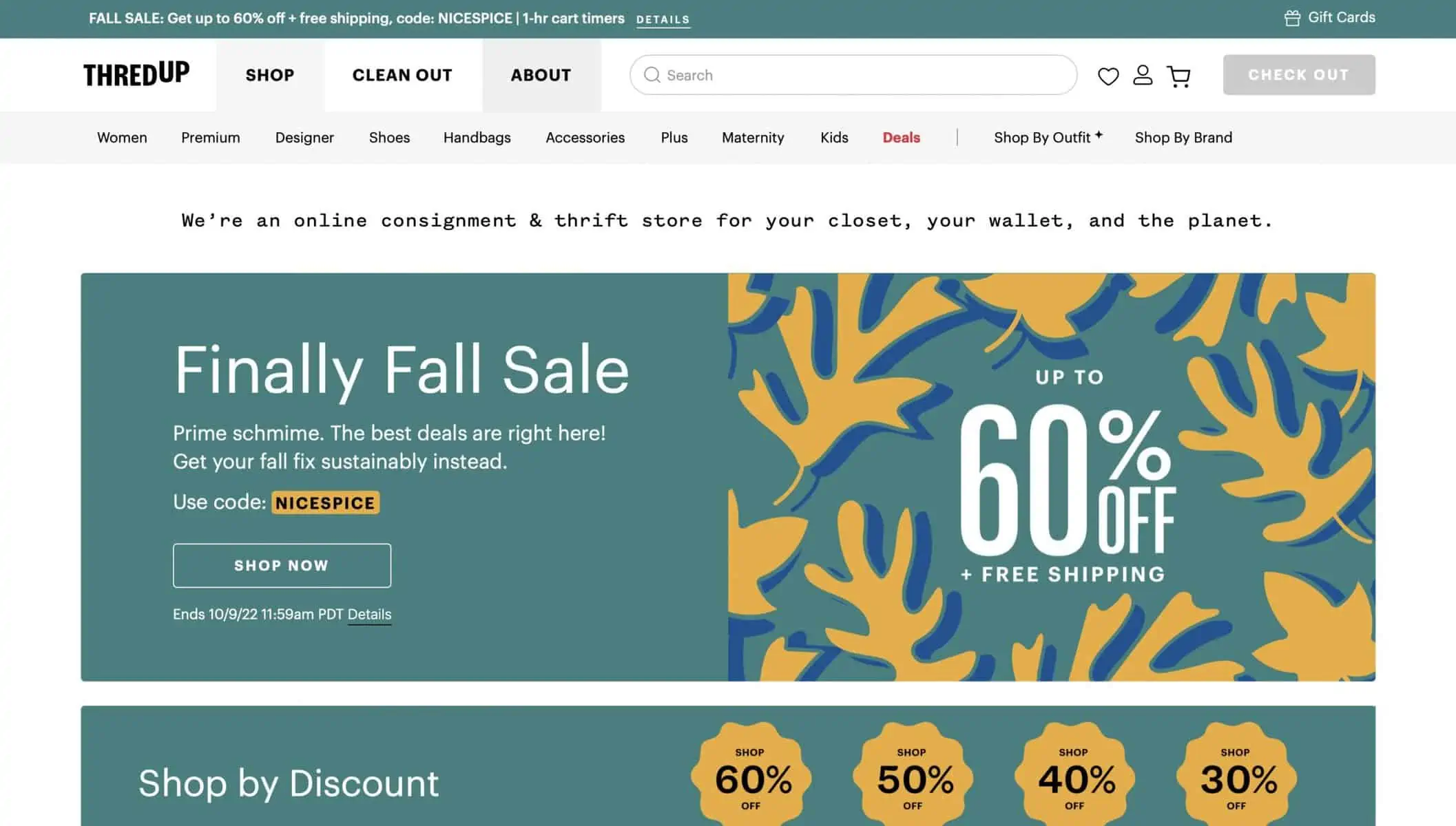 thredUp is an online consignment and thrift store that accepts items for relate or donation. If you want to make extra money from your preloved clothing, you can send them up to thredUp. Additionally, thredUp accepts items that are to be donated to charities.
Now, let's focus on the selling side. You can sell almost all kinds of clothing on thredUp, from women's clothes, kids' clothes, maternity wear, shoes, handbags, and accessories.
To start selling, you need to order a clean-out kit, which comes with a bag and shipping label. You pack the bag with things you want to get rid of and drop it off at USPS or FedEx. Thredup then goes through your items and sells them for you.
Depending on the final sale price of your items, you could get paid between 3% to 80%. Items that are not saleable or don't get sold can be donated to charity, sent to fabric recycling centers, or get sent back to you (if you want).
13. Rebag
Looking to sell your bags, watches, and shoes? Rebag is one of the best consignment shops to do that. Rebag uses Clair, a resale value AI that instantly generates the resale price of secondhand bags based on their brands and condition.
All you have to do is download Clair and use it to snap a photo of your items. Once that's done, you get an instant offer, often ranging between 40% to 70% of the bag's resale price. If you accept, you send the product with a prepaid shipping label sent to your email or drop it at a Rebag store.
14. Mercari
Mercari is an easy-to-use app where that allows you to sell secondhand items from home. You can sell almost anything on Mercari, from clothes, toys, jewelry, electronics, etc.
To start selling, sign up for an account on Mercari. Next, take a couple of good photos of the product that you are selling, write a description and set your price. When a buyer makes a purchase, simply shipand you get paid after three days, either through Instant Pay or Direct Deposit.
Chairish is a platform that focuses on buying and selling furniture, high-end art pieces and decors. If you have a taste for fancy furniture and artisan decor, and would like to sell a few of your own, then Chairish is a fantastic platform to do so.
You can sell on Chairish by taking photos of the furniture or art pieces that you want to sell and upload it to the site. You'll connect with potential buyers and once a sale is finalized, you reach out to Chairish for shipping arrangements. You then receive up to 70% of the item's sale price through PayPal.
16. AptDeco
Some people turn to online consignment shops to buy and sell secondhand furniture, rugs, decors and other forms of furnishings. AptDeco is one of the best platforms that serves this specific market, and it can be a great way for you to earn some cash for things you intend to discard.
Listing your items on AptDeco is free. Just send them photos of the products and they'll handle the listing. Once sold, you arrangement the delivery with the buyer and you get paid in 2-5 business days. AptDeco takes out a selling fee of between 25% to 38%.
17. Couture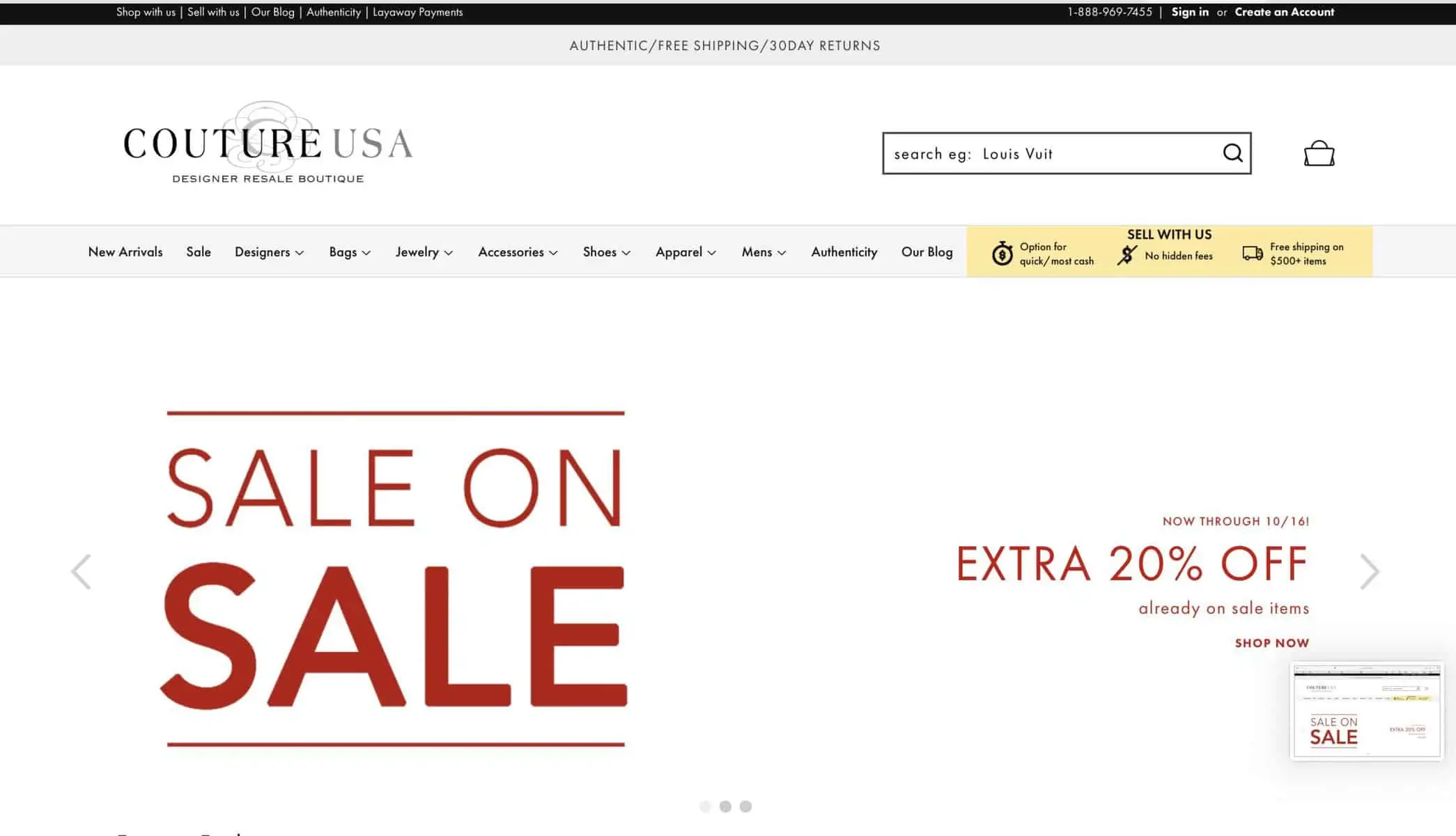 You could sell men's and women's clothing, shoes, bags, jewelry, and accessories on Couture, especially high-end and designer ones.
You could sell items or consign easily by uploading a photo of the item you want to sell on Couture. The site will give you a quote, and if you accept, you ship the item to them to verify for authenticity. If everything is in order, you get paid up to 75% within the next business day.
How to Make the Most Money Selling at a Consignment Shop Near Me or Online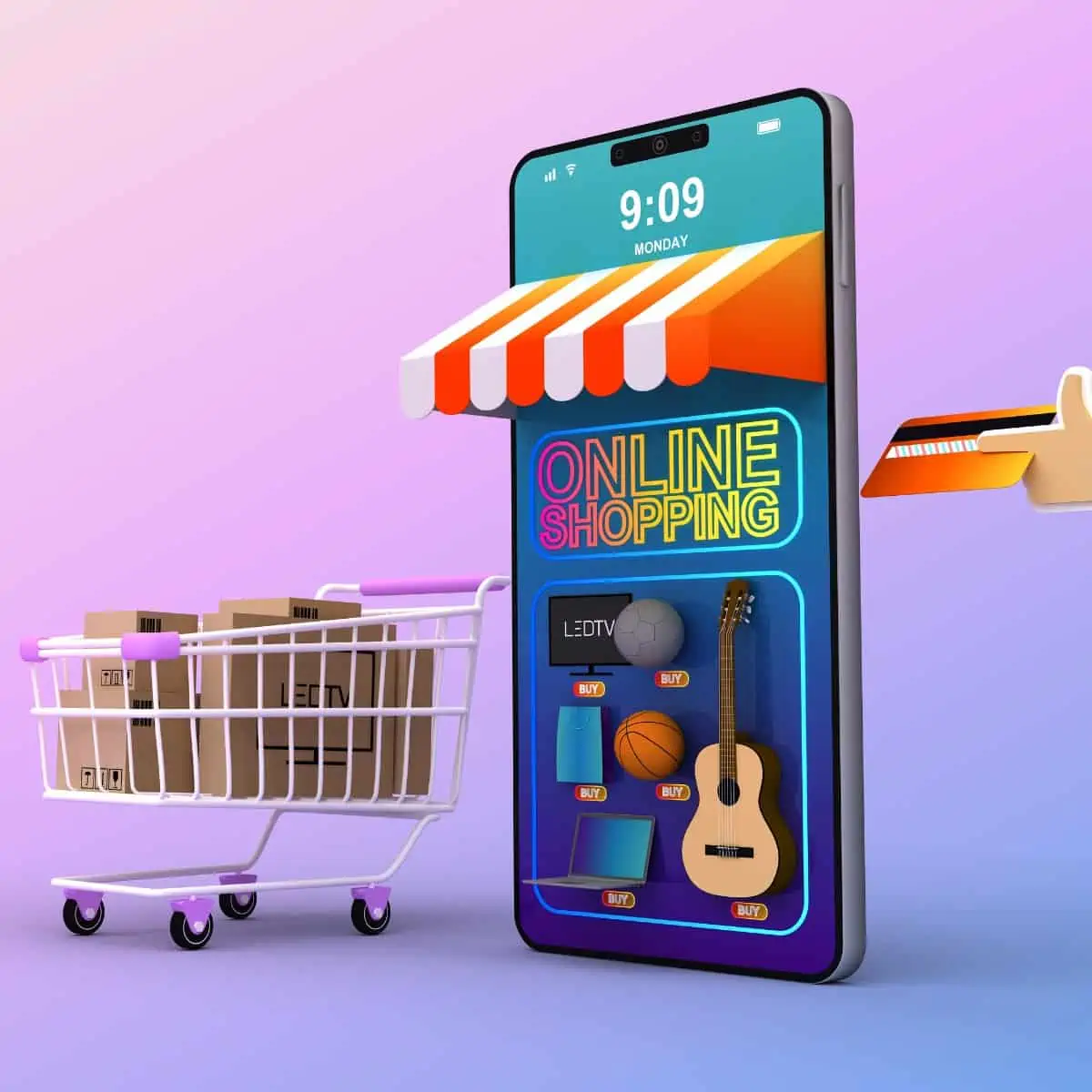 You can easily earn extra cash from products you own by consigning them to a brick-and-mortar consignment shop or an online consignment store. Here are the best tips to help you earn top dollar for your preloved items:
Focus on items that have the most demand. In-season apparel and accessories tend to do well in consignment sales. For instance, sell your winter clothes when it's approaching winter and not in summer.
Retro and vintage products tend to command good prices. These products carry a scarcity factor, so they tend to get higher rates.
Clean your items before selling. Put some effort in the presentation to attract more buyers.
Make photos attractive if consigning online. You can wear clothes over a maniquin (or even a human model) for better visualization. Take high-quality photos from different angles, and make sure to include details brand tag.
Engage with potential buyers. Respond right away if a buyer inquires about your items or asks for additional information. Be polite and friendly.
Be realistic with expectations. Consigning is an easy way to earn money but it won't make you rich. Consignment shops follow competitive fair pricing. If some items are not good for selling and you don't want to take those back home, then be open to donating them instead.
Conclusion
Deluttering your home or wardrobe is a great way to emotional stress of owning way too much stuff. But instead of piling the off-season clothes in storage, why not make some money by selling or consigning them. The consignment process is pretty quick and easy, and in most cases, you'd go home with cash in your hands right away.
Alternatively, you could turn to online consignment shops where you could sell your lightly used items. A lot of these have online shops have mobile app platforms so you can easily and quickly interact with buyers and close a sale.