I love mason jar salads! It's a shame that it took me a long time to try this out and see what all this fuss was about!
I had mason jars lying around in the kitchen for years but never really figured how to re-use them other than for desserts. And so, when I started making mason jar salads recipes, I am in love!
First, because they're pretty and makes your salad looks even more appealing. Second, they don't leach flavor. Unlike plastic that retains flavor and aroma of food, mason jars don't leach. Wash and dry mason jars in between uses, and your salads should come out tasty and fresh.
Third, when layered right, your salad ingredients should remain crisp and fresh for days, which means you can prep salads for the week and save time.This also ensures you are going to eat healthy!
And finally, isn't it fun to eat gorgeous, healthy food out of a jar?
---
How to Make Mason Jar Salads
To make mason jar salads, all you have to do is:
Prep the ingredients.
Make the dressing.
Layer the salad ingredients in a jar. Ideally, you want your dressing to be in the bottom to keep the other ingredients crisp and not soggy.
Store in the fridge.
Pro Tip
Choose your containers wisely. You want to use the right mason jar size to fit all the ingredients you want to include in your salad, and open-mouthed containers so it is easier to pack the ingredients into the jar and pick them out of the jar.
This post contains affiliate links which means I may earn a commission when you make a purchase through these links. Please read my disclosure for more information.
---
10 Quick and Delicious Mason Jar salads recipes
If you're wondering what kind of salads and meal preps you can do with mason jars, the answer is there's a whole lot of them!
These are some of the best make-ahead mason jar salads ideas that you can keep in the fridge for days, allowing you to save more time, cut down costs on food as well as make healthier food options.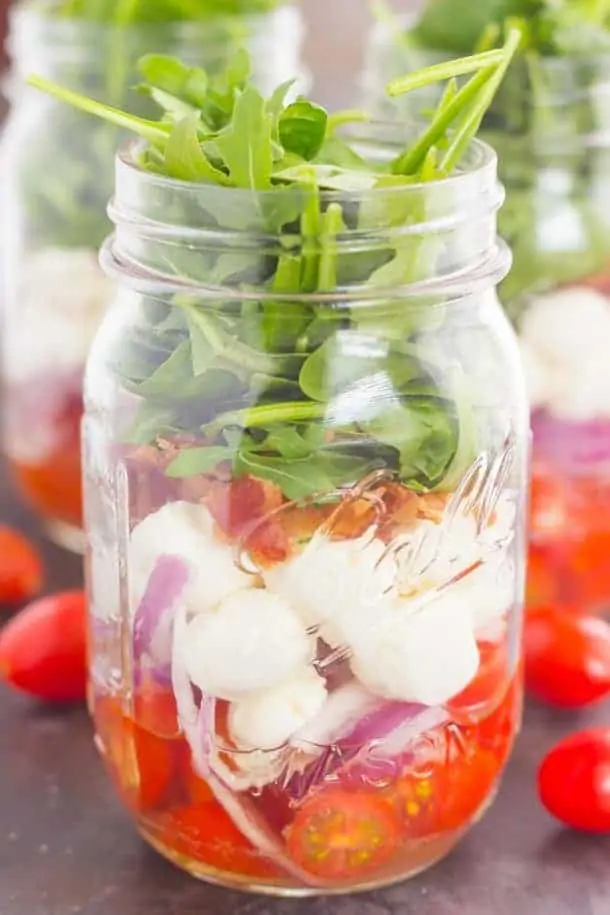 Southwest Zucchini Mason Jar Salad
Final Thoughts
If you haven't thought about re-using your mason jars for salads, then I urge you to give it a try! There are plenty of amazing mason jar salads recipes out there that are inexpensive and quick to prepare. I like saving money whenever possible, but I also like to eat healthy as often as I can, and I believe these delicious mason jar salads recipes fit the bill perfectly!