Do you own a house? If so, how much do you spend for the maintenance?
A lot of people don't know how much it actually costs them to own a house. On top of the mortgage you have to pay for years to keep your investment, there's also the other equally important issue of house repairs and maintenance cost that you need to budget for in order to keep that investment last for years.
On average, according to the Harvard University Joint Center on Housing Studies, homeowners should budget 1 to 2 percent of the value of their homes every year in maintenance and upkeep.
That means, for a house worth $300,000, you should set aside at least $3000 per year for the upkeep and maintenance. Well, this doesn't mean you'll spend all that money ( maintenance cost still depends on many factors such as the type of home you have, location, etc.).
But still, even a thousand dollars per year is still a lot of money, right?
Add to this is the sad truth that as a homeowner, you cannot afford to ignore these repairs because the longer they remain unfixed, the more it will cost you in the long run.
This is why for us living on a small, single income, we try to lower this expense by being handy with tools and knowing some household repair tricks. And so we never spend a dime on services fees per year, thanks to my husband and his tools.
Below is a list of tools that we recommend every DIY homeowner to have to save hundreds to thousands per year on maintenance.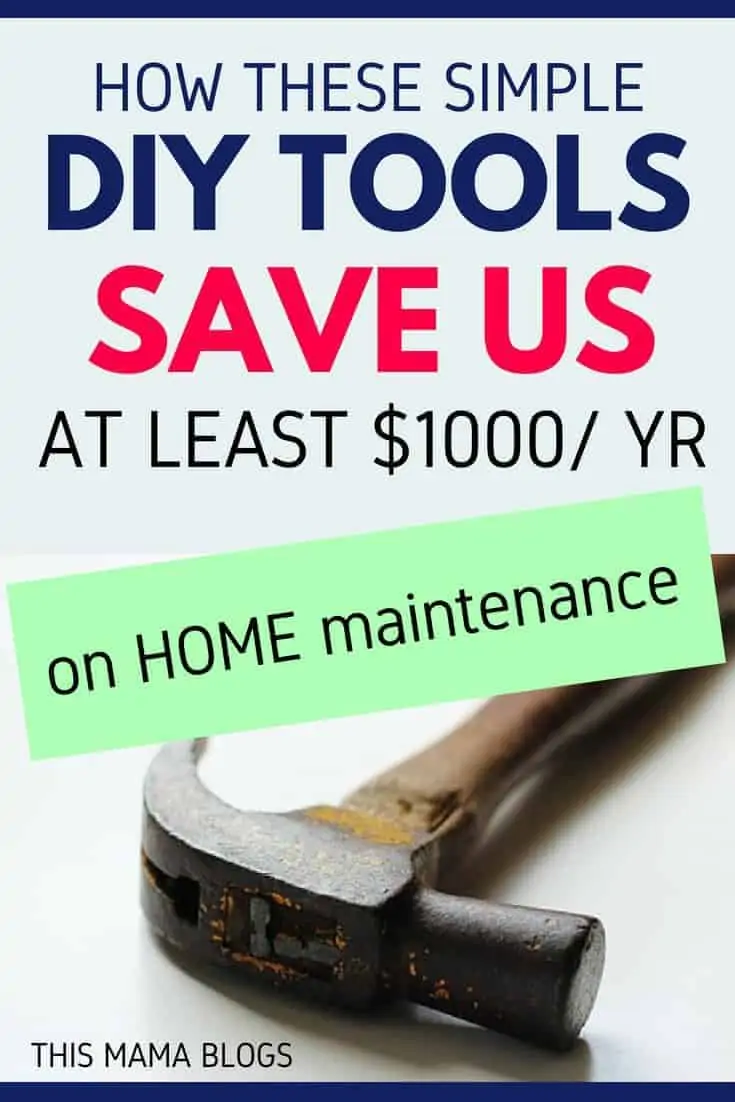 Check your toolbox and see if you've got these!
Screw Drivers
Every household should have a set of screwdrivers. It's a basic tool that you can use to do repairs or fix things without having to call in someone to help. A basic screwdriver set should cost you about $10.
Use it to:
Hammer
Here's another must-have in every home. Whether it's to drive nails in or to pry them out, a hammer is a handy tool that you can wield with little fuss. The most common are those with wooden or fiberglass handle that cost about $10.
Use it to:
Electric Drill
An electric drill is your number one go-to if you need to drill holes for screws, installing fixtures or building something small like a bookcase, a shelf or even a doghouse. A sturdy electric drill with a good handle and warranty should cost about $100.
Use it to:
This isn't something often found in household toolboxes, but this is a great tool to have handy. A level is a liquid-filled tube gas with an air bubble inside. It's used to determine horizontal level and vertical alignment and is helpful when you're trying to hang pictures or mirrors and making sure that the mounting locations are evenly spaced.
If you're building a bookcase, the tool helps make sure that the shelves are level. There are many different kinds of level. A mini-level costs about $6. Metal levels and those that can be used for bigger jobs should set you back about $15.
Grass Cutter/Trimmer
Having a lawn or even a small-sized garden can be a delight. It's a good place for picnics, parties or setting up a playground for the small kids. But it also demands regular maintenance, and the job of ensuring its upkeep can cost you about $30 to as much as $60 depending on how big your lawn is.
A grass cutter or trimmer is therefore a smart investment that only costs fro $30-$100. You can pick a cordless or rechargeable trimmer, which is lightweight and low maintenance, plus you won't need to spend additional money on gas or oil. Cordless grass cutters are also easy to operate, portable and makes the least noise compared to other grass trimmers so it's a good choice if you live in a busy neighborhood.
For the past 5 years when we cut our grass ourselves, we saved at least $600 per year /$3000 for 5 years!
Wrench Set for Plumbing
Another item that you should have in your toolbox is a wrench set. Whether you need to tighten or loosen bolts, you need a wrench. Others prefer to have two different wrenches that come in a different size for a variety of tasks. You can get a set containing a six-inch wrench and a bigger one at 10 inches, costing about $40.
Use it to:
Fix a spraying faucet due to dirty aerator. Use an adjustable wrench to unscrew the tip of the faucet, take out the aerator and clean it, before putting it back in. You don't have to call a professional, saving you $100 for a job you can easily do yourself.
Circular Saw

For heavy cutting tasks, or when you need to cut large amounts of wood, the best tool to use is a
circular saw
. While a handsaw can just as easily do the job, a circular saw can do it much faster. A basic sidewinder, much lighter than worm-drive saws, costs about $100-150. Rechargeable cordless circular saws cost are much cheaper but don't last as long and don't pack as much power as the corded ones.
Use it to:
Fix a damaged floor material. Use it to cut the subflooring beyond the damaged areas so you can install the replacement material. Professionals typically charge as high as $15 per square foot for this kind of repair job.
Snake Plumbing
A plunger is sure handy, but a snake plumbing makes de-clogging drains much faster and easier. The most basic snake plumbing you can get at Walmart averages at $20.This is way cheaper than forking out $200 to pay for professional draining services.
AC Circuit Tester
This is a basic tool used to determine if an equipment ground wire connected to somewhere else in the system. Use this to check the circuit before replacing older ungrounded switches, installing outlets or adding electrical ground wire. A circuit tester on Amazon can cost as low as $10 to as high as $80.
Vacuum Cleaner
Every house must invest in a vacuum cleaner, which makes cleaning so much easier. A shop vacuum that allows for wet and dry pick-up on Amazon cost about $35. This is much cheaper than paying a house cleaner $60/hour to keep the dirt and grime away.
LET'S HEAR FROM YOU!
Do you have any of these tools in your home? Let me know which DIY tools you have!