Want to give cash gift to someone you love? Here are creative and fun money gift ideas!
Special occasions call for special gifts. But admit it, we all have come to a point when we don't know what to give a person anymore. It could be that the receiver already has all the things he/she likes. Or maybe, you just don't know what thing to give that your loved one would surely like or appreciate.
During these occasions, I believe that it is best to give money as a gift.
Did you know that an average American consumer spends almost $1000 a year on gifts alone? Unfortunately, around 10% of those gifts are returned.
Perhaps the recipient already has that same item, the color or size is not right, or simply the gift did not fit the recipient's taste. Imagine what a waste it would be if the receiver did not appreciate your gift for one reason or another.
The gift of money is the safest option, but more than that, you are giving the recipient the freedom to do whatever he or she likes with the cash gift.
Giving Money as a Gift: Is It Tacky or Thoughtful?
I know that some people are for, while others are against, giving money gifts.
Some people think that giving a cash gift is equivalent to being tacky and impersonal. For them, you did not give the occasion and the celebrant enough thought, and you were able to pick a real meaningful gift.
On the other hand, some people think money is thoughtful, and cash is indeed the best gift. It is also a practical gift because the receiver can put the money into the desired purpose.
If you're unsure whether giving real money as a gift is a good idea, consider these scenarios:
You could give a graduation money gift to help the student go on a memorable road trip before he goes to college.
You could give a couple some money as a wedding gift to help them buy new furniture or appliances for their new home.
You could also give cash during a baby shower to help the parents set up the baby's savings fund.
You could also give cash on someone's birthday to help him or her build an emergency fund.
Money is a very versatile gift and it could go a long way for someone receiving it. But instead of giving money gifts as cold hard cash, you could put in a little effort and give money in a fun and creative way.
This post contains affiliate links. I may earn a commission at NO extra cost to you for your purchases made through these links. Disclosure.
15 Creative Money Gift Ideas
Giving cash doesn't have to be boring and too straightforward. There are several creative money gift ideas that you can take inspiration from to give money in a fun way. Here are some of the fun money gift ideas you could try.
1. Money Cake
The cake is a staple for any occasion, so putting some money in the cake would make it the perfect gift.
If you are baking the cake you could use a money box cake that you'll embed within the cake itself. You'll put the dollar bills inside the transparent pocket, roll them up, and then attach the cake topper. Nobody would suspect that there is some money gift inside the cake until you ask the celebrant to pull the topper and the bills come out.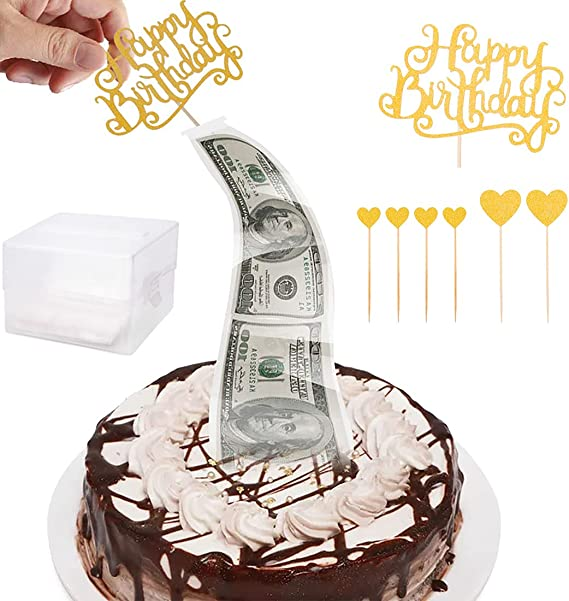 Source: Amazon
You could also order the money cake from your baker, if you aren't making the cake yourself.
The money cake is indeed a creative way to give money as a gift that is sure to make someone's day!
2. Money Tree
One of the foolproof creative money gift ideas is hands-down the money tree. You can create your own money tree and give it as a birthday or wedding gift.
You could create a DIY money tree by looking for a pretty branch with smaller twigs. Place the branch inside a vase and tie your dollar bills with a ribbon on the smaller branches. Finally, tie as many bills as you like.
If you aren't fond of DIY, you could just order a ready-made money tree from Amazon. You could buy a money tree like this one which has pretty LED lights. Not only does it make a pretty present, but the recipient could put it on display in her home as well.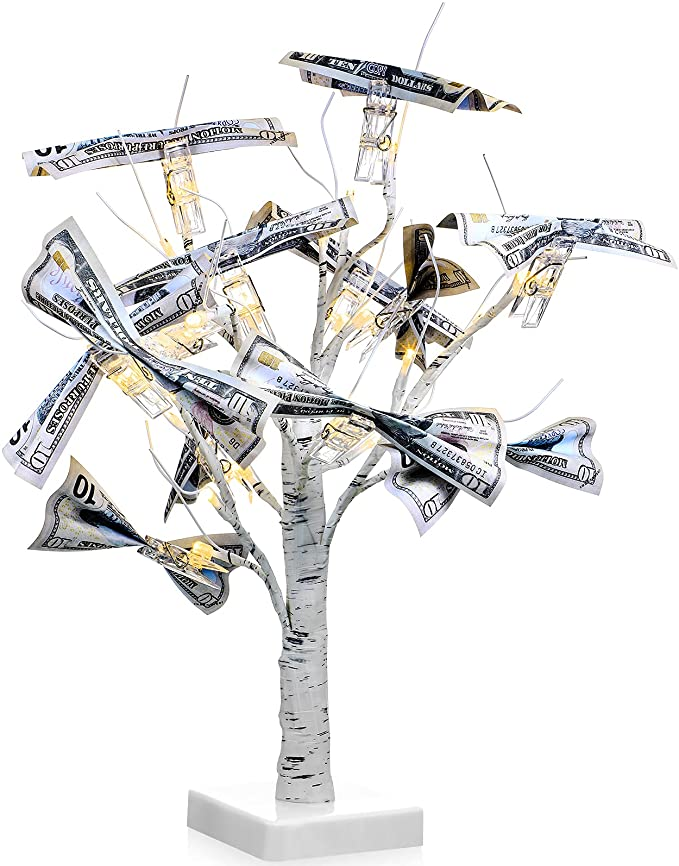 Source: Amazon
3. DIY Money Chocolate Box
A box of chocolates is always a thoughtful gift idea, whether it's the Valentines day or someone's birthday. But did you know you could take your present to another level by filling the box up with dollar bills?
Yes, and this money gift idea is pretty easy to do. Simply get a box of chocolates, take the chocolates out, and put in the bills. Now put some of the chocolates backs in the chocolate box. If the recipient has a sweet tooth, he or she would definitely be looking for the chocolates too!
To make it even prettier, tie the box with a nice ribbon.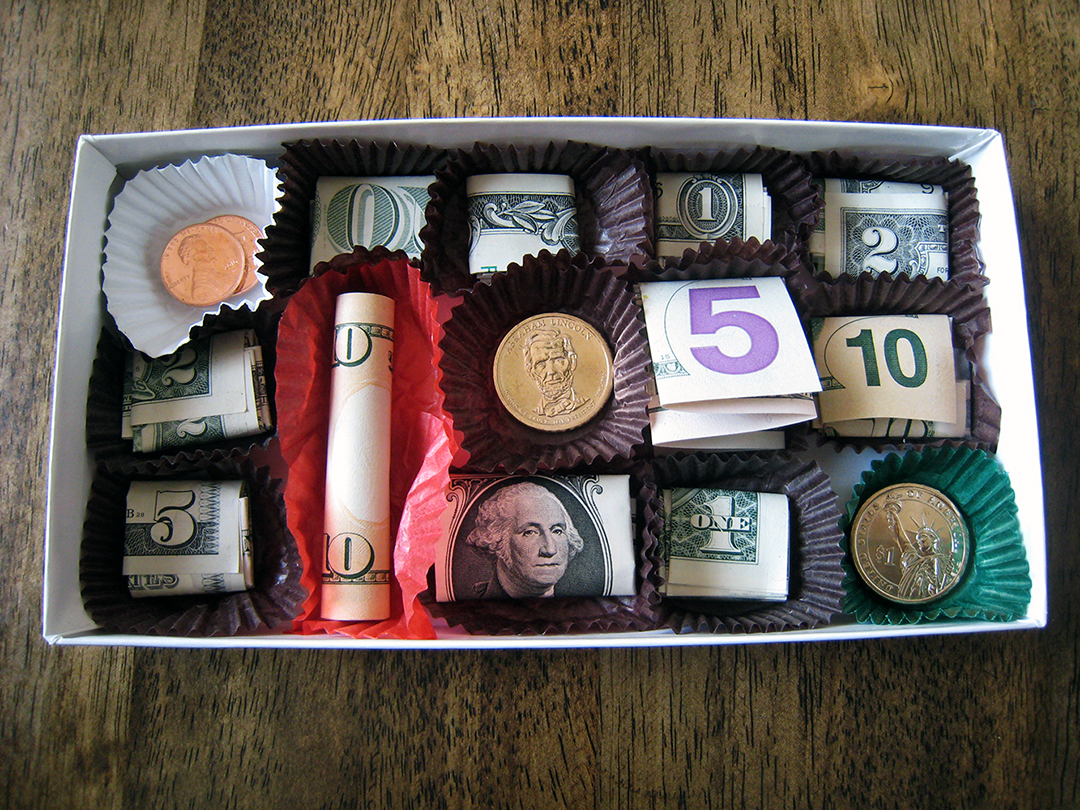 Source: Life as Mom
Of course, the receiver would expect that the chocolate box would contain chocolates, only to find out that there's cash gift instead! Indeed, what a fun way to give money to someone you love.
4. Money Pizza Box
Every body likes some dough, but we're not talking about dough in a pizza here, but pretty close.
One of the fun ways to give money to someone who loves pizza so much and works well on any occasion. This creative gift idea is a perfect gift for a birthday or graduation. The money pizza box is filled with so much goodness that's guaranteed to make someone happy.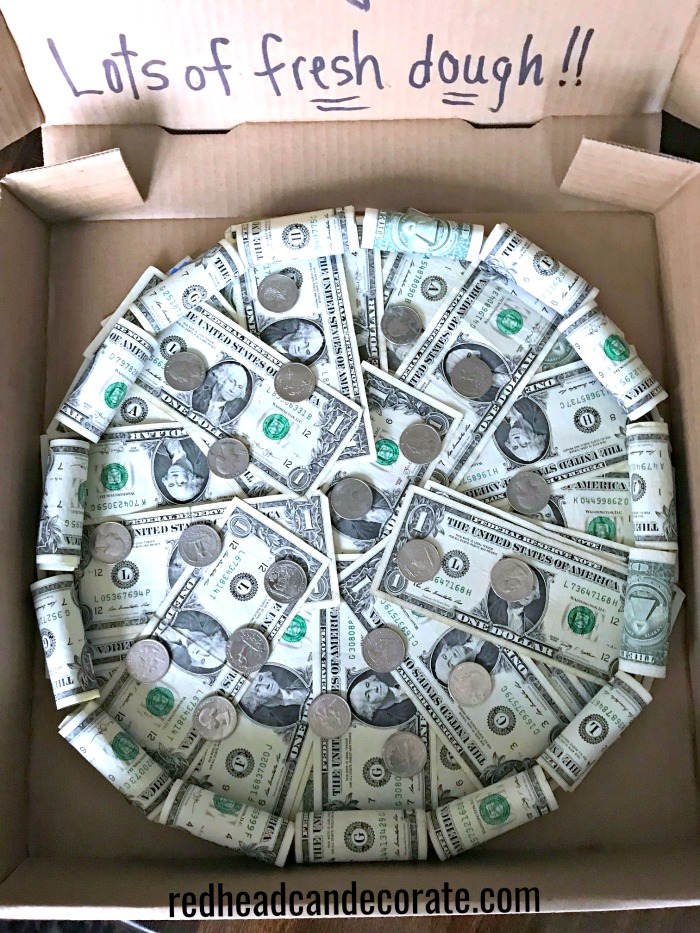 Source: Redhead Can Decorate
To come up with this awesome gift idea, all you need is a clean and empty pizza box. Now arrange your dollar bills in a circular, layered fashion. Get some coins and arrange them on top like they're pepperoni. Finally, write a witty message to finish off this fun money gift.
5. Dollar Bill Origami
If you like to challenge yourself and come up with truly unique money gift ideas, then try do a dollar bill origami.
Origami is the Japanese art of folding paper. But would you rather give a peacock origami as a gift? Why not create money origami from some of your dollar bills and give it to the celebrant? It is a more thoughtful and practical gift idea that will always be appreciated.
Wondering what money origami gifts to make? Here are a couple of ideas from make-origami.com.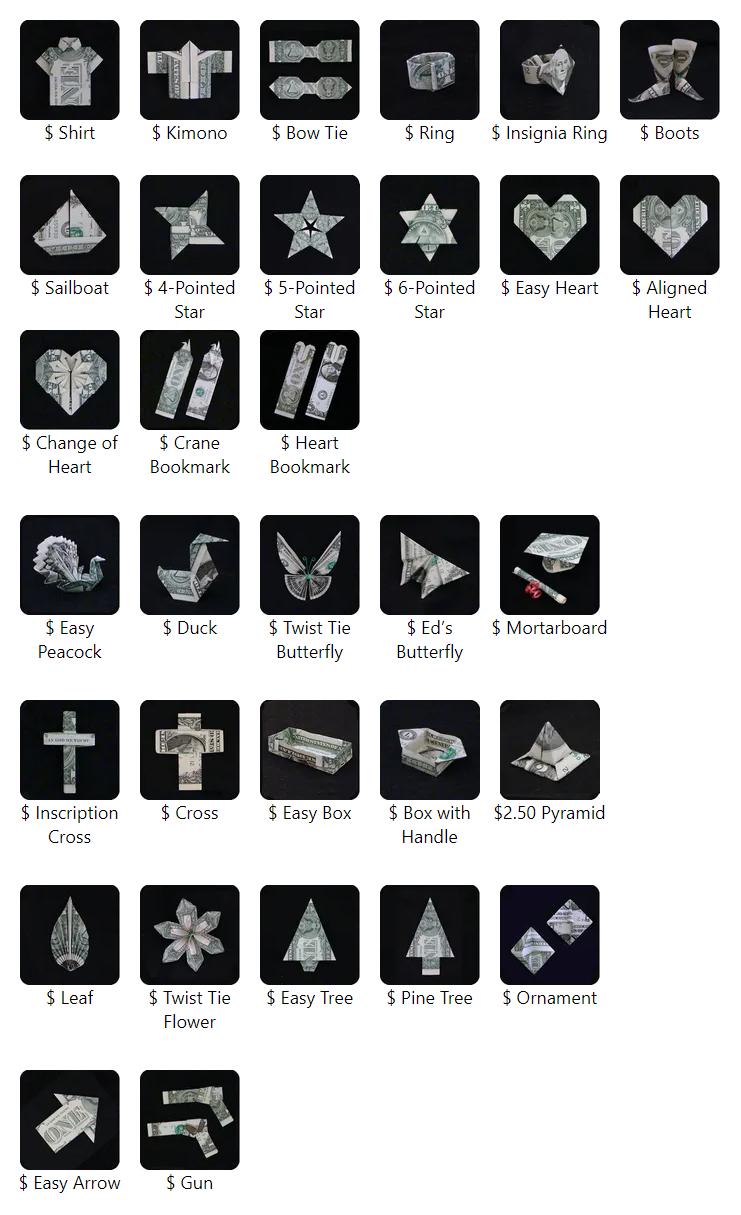 6. Money Lei
When it comes to giving cash to someone as a graduation gift, nothing beats making your own money lei.
A lei is a garland typically made out of flowers, given to someone as a congratulatory graduation gift. But in the modern times, giving money lei has become more popular.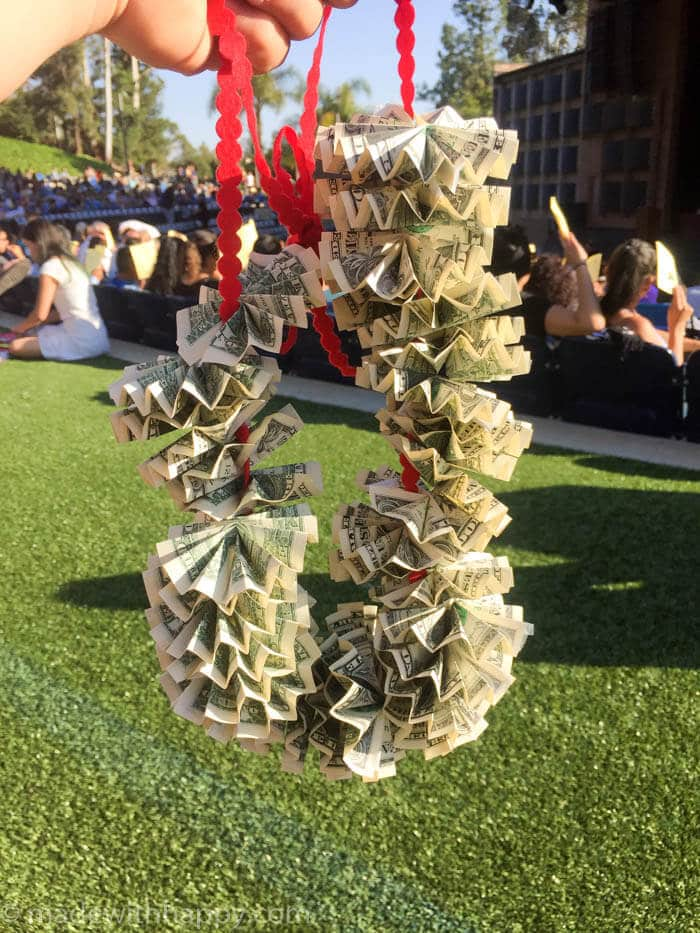 Source: Made With Happy
Making a money lei takes time, effort, and of course, money, so it's definitely a sweet way to give cash. You can make a simpler money lei by rolling dollar bills and then tying them all together to create a garland. But you could also make more intricate designs, by folding the bills and adding a few accessories to give it more visual impact.
Indeed, creating a money lei is one of the creative ways to give cash to someone who has accomplished an important milestone in life.
7. Money Rosette
If you enjoyed making a money lei or origami money, then here's another creative money gift idea for you to try: the money rosette.
This is an excellent money gift idea for graduation, wedding or when you want to give a cash prize to someone.
What you need are some crispy dollar bills and crafting supplies. You'll have fun making this money gift as much as giving it. Here's an example of the money rosette, courtesy of Cathe Holden.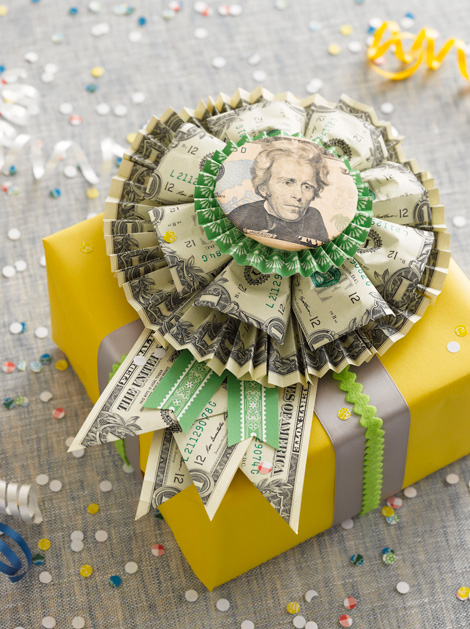 8. Money in a Tissue Box
What makes this gift idea truly unique is that you wouldn't normally give someone a tissue box as a present, right? So you could just imagine their surprise as they tag on the "tissues" only to find that it's cold hard cash inside!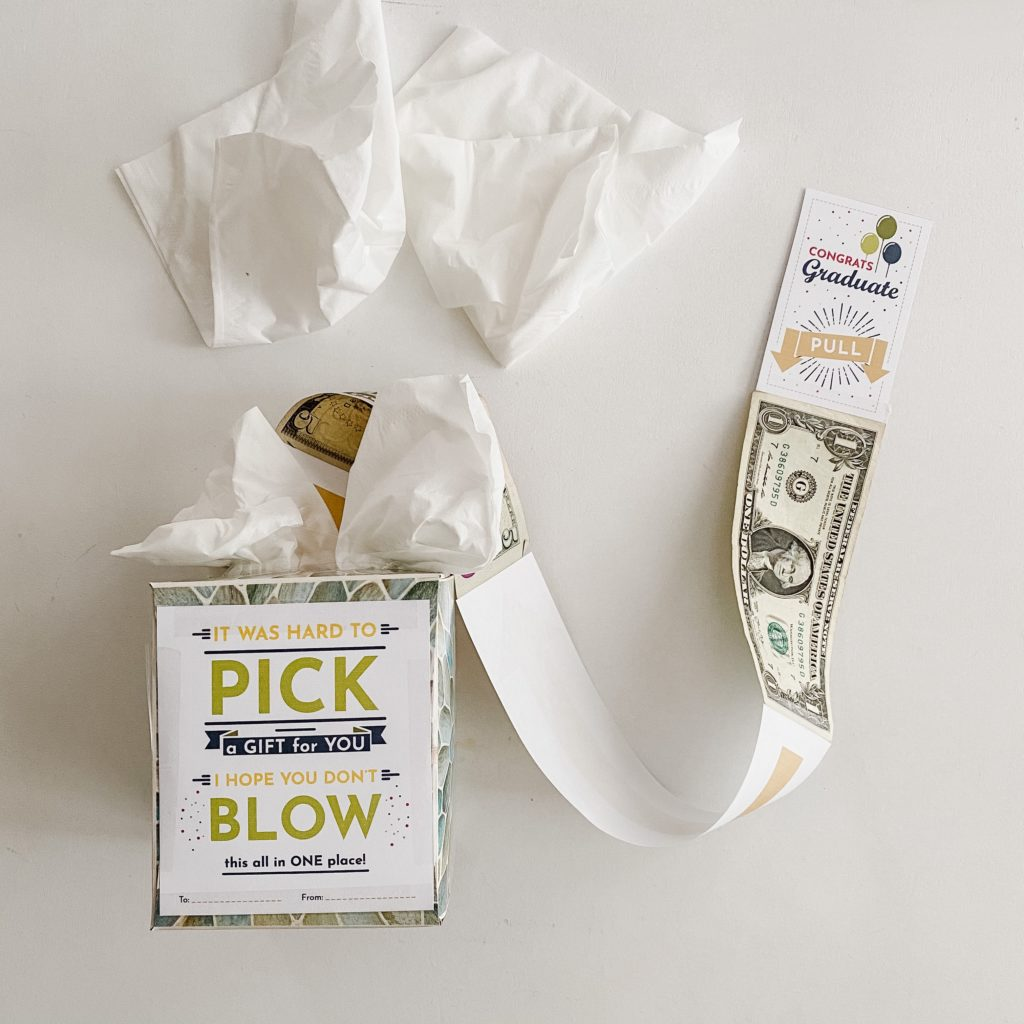 Source: Home & Kind
This is one of the creative money gift ideas that don't require much. All you need is an empty tissue box, some dollar bills and painter's tape to put the bills together. To make it even unique, you could wrap the tissue box and perhaps write a witty message outside the box.
This fun money gift is sure to delight anybody receiving it. It's a great money gift for the holidays, wedding, birthday or graduation.
9. Money Balloons
Creating money balloons is another thoughtful gift idea for a birthday, baby shower, anniversary or any other special occasion.
For younger kids, you could roll up some bills, put them inside the balloons and fill them up with confetti. Put the money balloons inside a box, and give to the recipient. Now, the celebrant will have to pop each of the balloon to retrieve the money gift.
Another way to present a money balloon is as a money gift is to fill a balloon with helium so that it floats. Tie the bills onto the balloon, and place inside the box. You want to make sure that you've anchored the helium-filled balloon somewhere so that it doesn't fly into the sky when the recipient opens it.
10. Money Bouquet
Giving a money bouquet is one of the sweetest ways to give money.
A money bouquet is essentially bills made made into flowers and arranged into a bouquet. Most women would be most appreciative of such gift ideas, so the money bouquet is a great gift idea for your mom's or wife's birthday, wedding anniversary of the Mother's Day.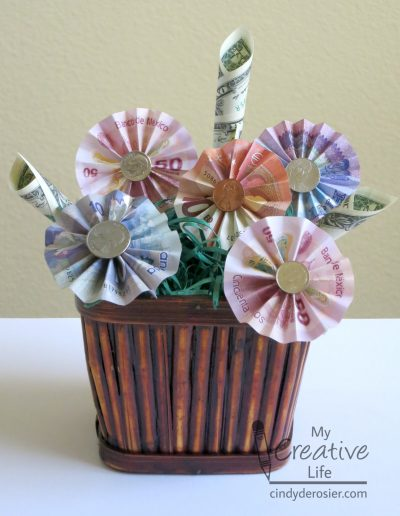 Source: Fun Family Crafts
You can create a money bouquet yourself by gathering some dollar bills (in any denomination), some skewers, some scrapbook paper and floral foam.
First, you have to fold the bills and form them into flowers. Attach them into skewers and stake into a floral foam. As a finishing touch, put the bouquet into a pretty bucket or wrap them up using a thick wrapping paper. Add a message on the card before handling the money gift to the celebrant.
11. Money Gift Jar
I think the mason jar is one of the most flexible household items. And when it comes to money gift ideas, using the mason jar just comes naturally.
Depending on who will be receiving the money gift, you could fill a mason jar with some bills and coins.
You could add in other fun stuff to make this money gift even more special. You could place some candies or chocolates inside to hide the money. The recipient will only discover the hidden money once he or she opens the jar and eats the candies.
You could also personalize the mason jar with a hand-painted design and message.
The money gift jar is perfect for anybody. You could give it newly-weds or graduating college students who are about to hit another milestone in their lives. They could use that gift money to bump up their savings. The mason jar will have its future use too.
14. Emergency Money Box
Another practical way of giving money as a gift is to help the recipient beef up his or her emergency fund. This is a practical graduation gift for someone who is heading to college, or a young adult who is trying to live on his or her own.
Instead of giving cash as is, you could spruce the money gift up by putting the money in a glass frame, similar to this money gift idea by The Crafty Blog Stalker. It comes with the instruction "break glass in case of emergency." How smart and crafty, indeed!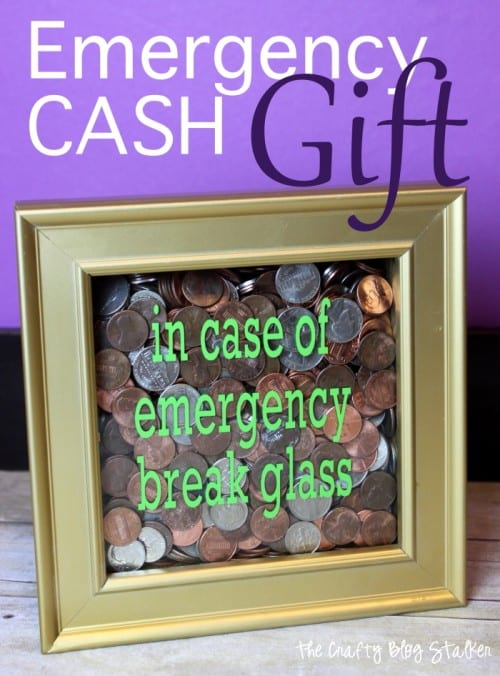 15. Personalized Piggy Bank
A great gift for kids to teach them the value of saving money is to get them their own piggy banks. But I don't mean those generic piggy banks that come in the form of pigs. You can instead get a personalized one, such as this one, on Amazon.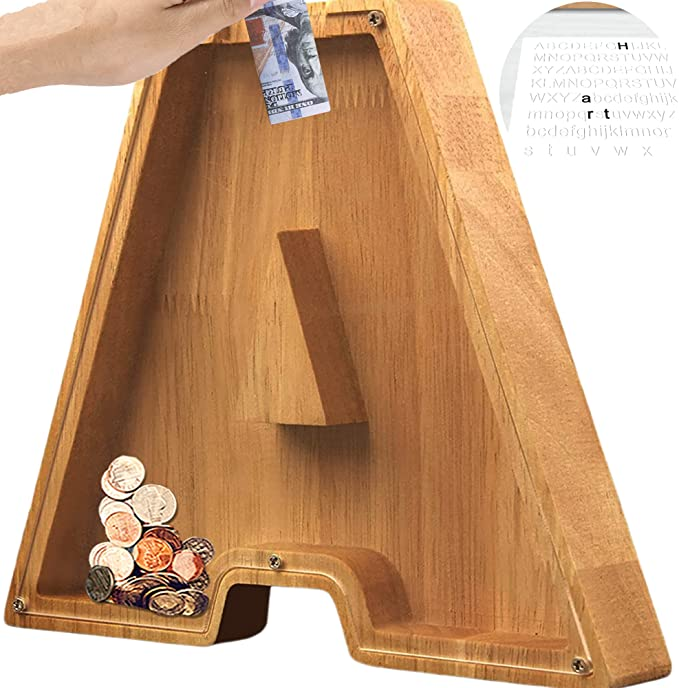 Source: Amazon
This is a fun way to give money on any special occasion, including graduation, the holiday season, and birthday. Of course, you'd want to put some starter money gift on the piggy bank before gladly handing it out to the recipient.
16. Gift Card Basket
A gift card is just as good as money. The recipient can use the gift card to purchase any item that he or she likes from a particular store.
But instead of just giving the gift card without any effort, you can turn it into a creative money gift by collecting those gift cards and putting them in a basket. You could add some cash, and personalize the basket to fit the occasion or personality of the receiver.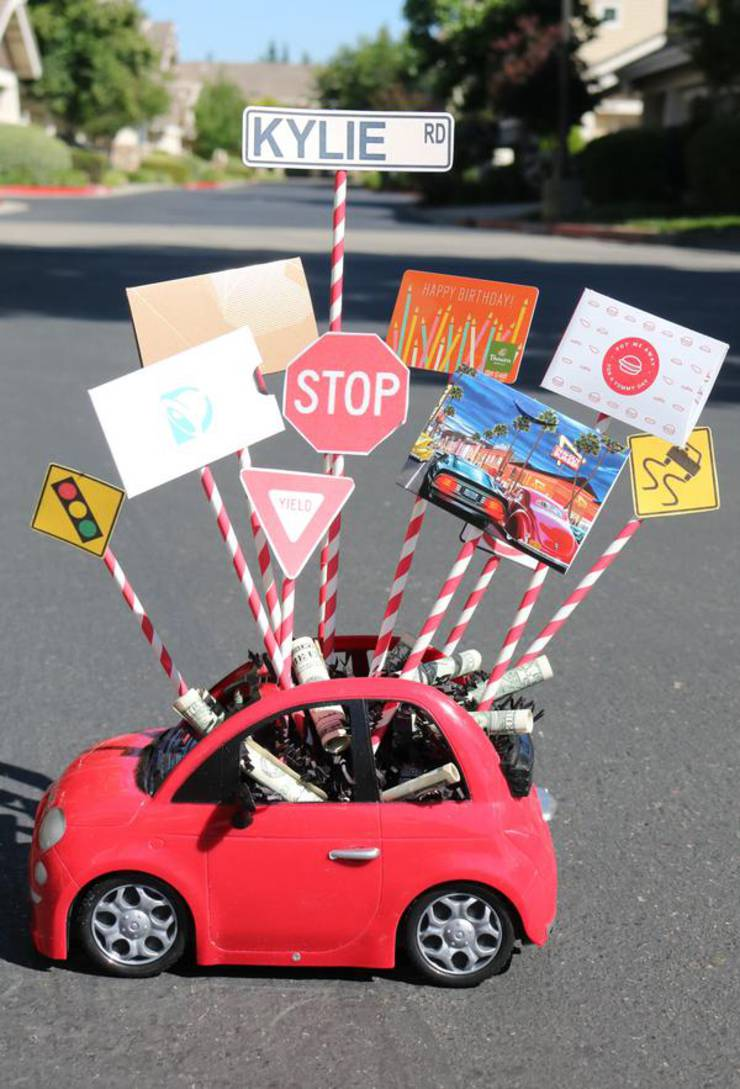 Source: Kimspired DIY
17. Umbrella Money Surprise
The umbrella money surprise is certainly one of most creative ways to give money.
Who would have thought that you'd hide money in an umbrella, right? So what you have to do is a get an umbrella, tape up some bills on strings, and then tie those strings into the branches inside the umbrella. Fold the umbrella neatly so that the hidden money gift won't show up.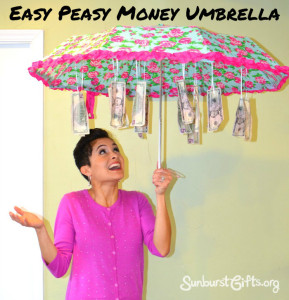 Source: Sunburst Gifts
When the recipient opens the umbrella, she'll be surprised to see bills raining on her!
18. Money Gift Pull Out Box
Here's a fun way to give money as a gift to your mom on Christmas, Valentine or whenever you feel she needs extra cash. This money box gift comes with a pop-up card where you can write your greetings or message. Once the receiver pull the card out, money in plastic bags will pop out.
19. Gold $100 Envelopes
Looking for simple but elegant ways to give money to friends, family or colleagues? Simple put your money gift inside these gold envelopes for a wow factor.
20. Chinese Red Lucky Envelopes for Money
Put your money gift inside these Chinese luck envelopes to wish your loved ones good luck at the start of a new year, and events like weddings, birthdays and more.
Other Money Gift Ideas
We have tackled a lot of fun money gift ideas above. These creative ways to give money makes the occasion even more memorable. But apart from gifting money personally, there are are other ways you could give money and create an impact to the financial life of the recipient.
21. Certificate of Deposit
This is a savings vehicle wherein the funds in the account remains untouched for a period of time and it reaps predetermined interest. This may not be the most creative gift, but it certainly helps the recipient learn to give money more value.
22. 529 contribution
Another unique money gift idea you could do is to contribute to a child's 529 plan. This money could very well act as a wonderful graduation gift or birthday gift, especially if you are unable to attend the occasion personally. You could ask the parents of their child's 529 account and deposit your cash gift there. That money gift would be put to good use in the future, as it could offset some of the costs in going to college.
23. Contribute to Charity
If the celebrant already have everything in life, giving money to him or her may not be the best gift. However, you could consider making a donation to the recipient's favorite charity to help him or her champion his or her cause. That gift of cash can go a long way in helping non-profit organizations sustain their operations.
24. Send PayPal Money
If you cannot personally hand over your money gift to your recipient, consider sending PayPal money with a note. It may not be one of the most creative ways to gift money, but it is a good last hour gift for recipients that are miles away.
Conclusion
There you have it–24 creative money gift ideas!
Money is indeed a perfect gift. It does not expire and it can be used in a lot of ways. Whether you're giving the gift of cash as a graduation, birthday or Christmas gift, there are so many creative and fun money gift ideas you could consider to make the moment extra special. Go over the money gift ideas mentioned above and see which is the best way to give money that makes the most impact.
But importantly, remember that it is always the thought that counts. Whether you are giving real money or gift cards, what matters is that you thought of the person on his or her special day.
How do you give money as a gift? And which of the money gift ideas mentioned above did you like? Let's connect in the comments.