Do you want to make money selling feet pics online using an Instagram account? In this post, you'll learn how to earn extra cash selling feet pictures on Instagram and whether or not it's the best platform for this side hustle.
So many people have their own Instagram accounts to post pictures and videos. But there are other things you can do with your Instagram page, such as making money. If you have a pair of pretty, dainty feet, you could venture into selling feet pics on Instagram as a business.
Selling foot pictures is lucrative. In fact, many foot models have already made money. You can, too, especially if you bring your business to the right platform. But how do you start selling feet pics on Instagram, and is it worth it?
This post contains affiliate links. I may earn a commission at NO extra cost to you for your purchases made through these links. Disclosure.
Why People Sell Feet Pics on Instagram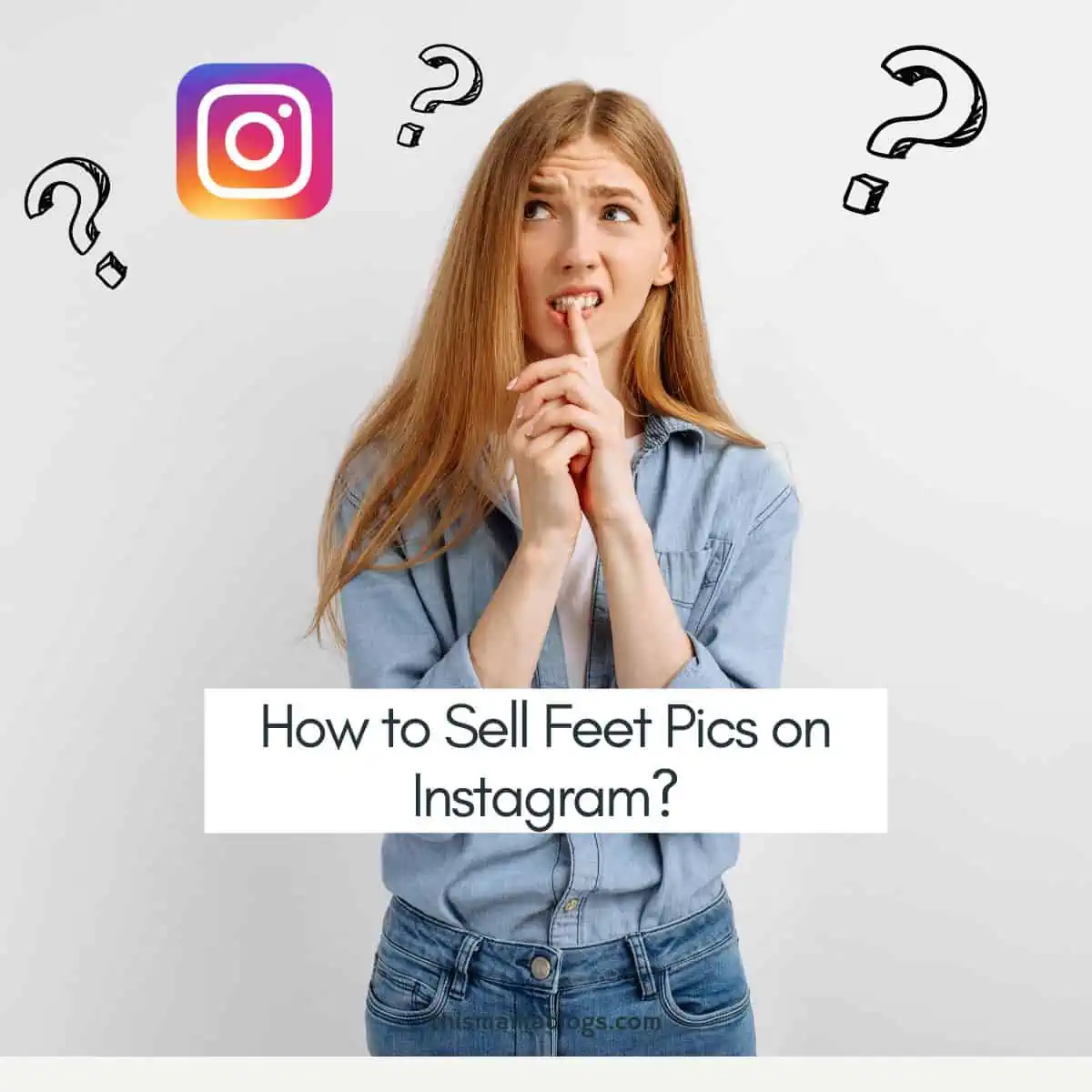 Instagram is one of today's most popular social media platforms, and it's no wonder why people try to use it to make extra money. According to Hootsuite, Instagram is the 8th most visited website, generating over 4 billion monthly visits.
It is also the 4th most used social media platform (Facebook, YouTube, and WhatsApp being the first three) and has over 2 billion active users.
From this data alone, we can see that Instagram is indeed one of the top-performing social media sites, and it only makes sense why people would try selling feet pictures here.
Step-by-step Guide To Selling Feet Pics On Instagram
If you're an avid user of the platform, then you should already know how to navigate the app. But even then, selling feet pictures online is another story than using your Instagram account for personal purposes. So let me explain how to sell pictures of your feet on Instagram with this step-by-step guide.
Create an Instagram account
To sell pictures of feet on Instagram, you must have your own Instagram account.
Go to the website, open the Instagram app on your phone, and sign up with your email address. While doing this, remember to set up an Instagram creator account instead of a personal one.
The Instagram creator account is perfect for social media influences and content creators. It also gives you tons of messaging and insights, so it's the perfect account for selling feet pics on Instagram.
Alternatively, you could set up an Instagram business account to sell feet pictures. What's great about the business Instagram account is that you can enable Instagram Shopping, a feature that allows people to buy feet pics right from your account.
Pro tip: use a dedicated Instagram account for selling feet pictures. Some people think selling photos of feet is odd or taboo, so creating an Instagram page for yourself as a foot model is a good idea. It's also wise to pick up a different username or handle (than from your other social media platforms) if you wish to stay anonymous.
Build your Instagram bio
Selling feet images is a business; your audience would see your Instagram bio the first time they visit your account. Creating a compelling bio can go a long way in establishing who you are and what you do. Use industry terms to emphasize further that you are selling feet pics on Instagram.
Put the link there if you are selling feet photos on other platforms. Since you can only put one link on the bio, many sellers use LinkTree to link to social media platforms and other foot pic accounts.
Determine your niche
If you want to reach a more "targeted audience," you'd want to find the best niche. While you can sell feet pictures on Instagram of virtually any kind, finding the right niche helps you focus on specific content and target a specific audience. For example, your niche can be bare soles, so all of your feet pics on Instagram would feature soles (no footwear). Or you could do stockings, nail polish, feet accessories, and so much more.
Take feet images
Build a portfolio of feet pictures on Instagram to show your potential buyers something. You also want to make sure you take high-quality photos to give your feet pic business an advantage over competitors.
Consider these as your teaser photos, so make sure they look pretty. Consider lighting, background, and even feet pic poses. You don't have to be a professional photographer. Still, putting extra effort into coming up with your feet pictures is good, as Instagram is such a visual social media platform.
Pro-tip: It is easy for other people to download your feet photos and claim them as their own, so it's wise to watermark your feet pics to prevent theft.
Write descriptions and research hashtags
You want to accompany high-quality pictures with enticing descriptions, so make sure to write excellent captions for your photos. It's also important to accompany them with relevant hashtags to make it easier for people to find your feet pictures on Instagram. Some of the best hashtags you can use are:
#feetlovers
#footfetish
#footworship
#footlove
#solefetish
Check out Instagram community guidelines and ensure you're not breaking any rules with the hashtags you use for your feet pictures. Also, check into your insights regularly to see which hashtags work best, and tweak your content strategy accordingly.
Name your price
Here's the fun but challenging part about selling foot photos on your Instagram page: setting your rates. Feet pic sellers can set their own prices, so it's up to you to determine how much your feet photos are worth. If you price too high, you drive away potential sales. Sell them too low, and you miss out on potential profits. So how do you price your Instagram feet pics?
Set your rates starting at $5, going upwards. Some successful foot models make at least $20 for each foot photo, while others charge around the three-digit mark. Don't charge too high while starting out, but increase your prices accordingly while scaling your business.
Also, think about bundling your feet content. For example, you can sell a bundle of 5 feet pics for $25 or a bundle of 10 for a discounted price of $45. You may also throw in some feet videos there, but adjust your prices. Finally, be open to selling custom feet pictures, which may be sold for much higher prices than regular feet pictures.
Feel free to check out competitors and see how much they're charging. It's also good to research other platforms selling photos of feet to ensure your pictures on Instagram are reasonably priced.
Get paid
So you've been posting feet pics consistently, and finally, someone tells you they want to buy. How do you get paid?
There are a couple of different ways to get paid on Instagram. You can use Stripe, CashApp, Zelle, or PayPal. These are more secure for me as they don't give away your bank account information.
Engage with your audience
Your work is not done yet. Instagram is more of a social media platform than a website for selling feet photos, so it's essential to "enrich and nurture" your followers here. You have to engage with your audience so they don't leave you. Make time to reply to comments and leave comments or reactions to their content as well.
Keep posting new foot pictures
Selling pics on Instagram needs effort and consistency. You want your audience to have something to look forward to, so keep posting new feet pictures. It helps to develop a content calendar to put everything in order and keep track of the feet pics you've posted. Apart from the Instagram main feed, you may also do a live broadcast and create Instagram reels and stories to grow your page further.
Pros and Cons of Selling feet pics on Instagram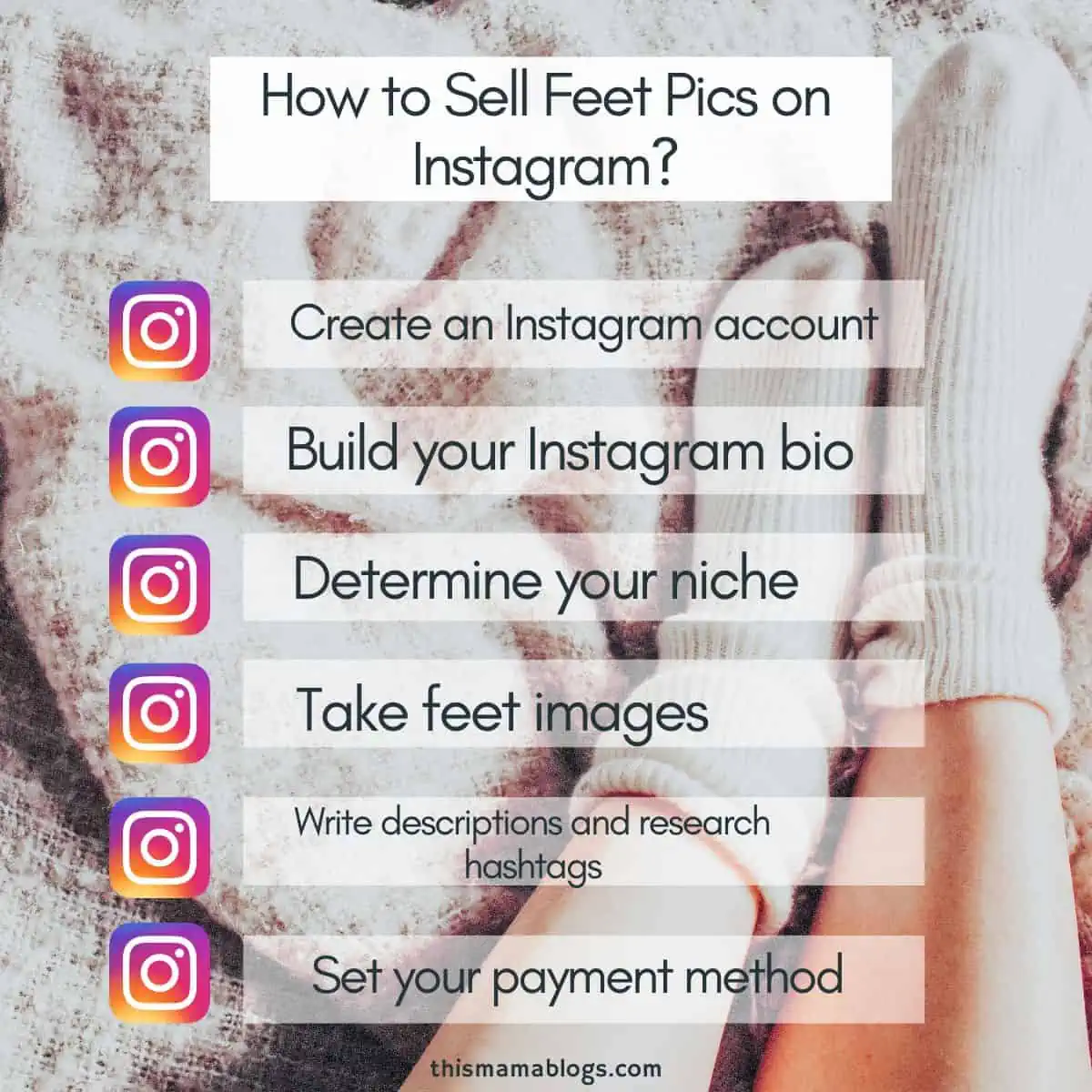 With just a few clicks, you can sell feet pics on Instagram and make money. But is this everything there is to it? Check out the pros and cons of selling pictures of feet on Instagram.
PROS:
Instagram is a popular social media platform, and many people use it.
Setting up your Instagram page and selling feet pics is free and easy.
Instagram has its own photo editing software to enhance your feet pictures with just a few taps.
CONS:
Selling pictures on Instagram is not safe and secure, and there's always the possibility of getting scammed.
You will have to facilitate the payment process yourself.
Instagram vs. FeetFinder: Where should you sell feet photos?
While you can sell feet pics on Instagram, I recommend using a dedicated platform for your feet pic selling business:FeetFinder.
What is FeetFinder?
FeetFinder is a website designed to facilitate the buying and selling of feet pictures. It is home to a massive database of foot photos and videos, so tons of people (and I mean people ready to buy) flock here to find foot pics that fit their tastes. Instead of having random strangers stalking your account on FeetFinder, you have a ready-built community of feet lovers. How cool is that!
And what I love about FeetFinder the most is that it is safe and secure. Everyone who signs up for Feet Finder, whether you're a foot model or buyer, needs to go through an ID verification process. This step helps weed out scammers and fraud, allowing you t sell feet pics with confidence.
Selling Feet Photos on FeetFinder
Selling feet pictures on FeetFinder could not be easier! First, take feet photos and upload them to your account. Write an appealing description there, too, and set the price. Or, you could upload an album of feet pictures and sell them as pay-per-view.
There are three main ways to make money selling pictures on FeetFinder:
Subscription: People pay to subscribe to your account. They'll have access to all of your feet' content and maintain that access as long as they pay every month.
Pay-per-view: Buyers can purchase specific feet pictures or albums. The pictures are initially blurred out, and buyers get the high-quality version of feet pics after they've paid.
Requests for custom pictures: FeetFinder has a built-in messaging system where you can interact with your buyers. Buyers may request custom feet pictures from you, and you can name your price.
Getting Paid on FeetFinder
Another essential feature you'll find on FeetFinder is secure payment processing, and sadly, Instagram does not have this.
The platform operates globally, with US-based sellers utilizing Segpay and sellers outside the US using Paxum to receive payments. All transactions are processed through the FeetFinder platform, ensuring maximum security and transparency. As a seller, you can easily keep track of your payout requests within the platform. One thing you can always be sure of is that FeetFinder values your privacy and will never share your bank account information with anyone.
Final Thoughts
Selling feet pictures is a lucrative way to make money, and you can do this at home with your Instagram account.
But if you take this business seriously, I recommend using a more secure platform to veer away from scammers and ensure you get paid for all your hard work. That is why I recommend using FeetFinder instead.
With FeetFinder, you can sell feet pictures in a safe environment. Here, you'll meet people ready to buy feet photos, and all payments are processed through FeetFinder's trusted platforms. This helps you focus more on creating high-quality foot content and sell feet pics with more confidence.