Some people enjoy reading books as a hobby. But others do it to make some extra income too. So if you can bury yourself in a book, reading it chapter after chapter, and can write an on-point book review, then you can get paid to read books.
This post contains affiliate links. I may earn a commission at NO extra cost to you for your purchases made through these links. Disclosure.
How to become a book reviewer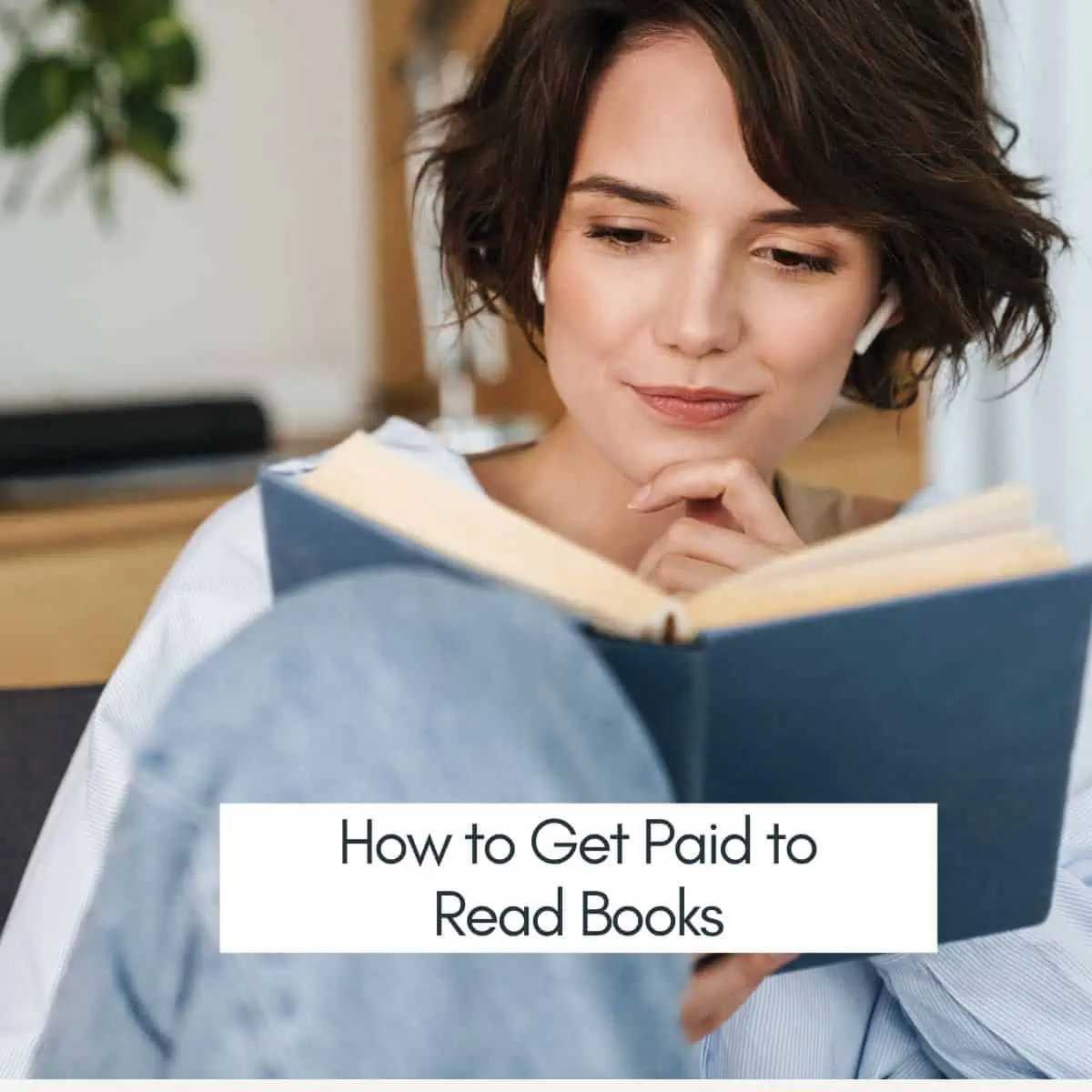 Right now, you're probably asking: How do you become a book reviewer? Do you need to hold a specific degree or earn a particular certification? Do you even need training for it?
Fortunately, there's not much that you need to become a book reviewer. First, you need to be a voracious reader. You must really love reading books. If you spend a good time in the library reading books or always made a point to visit the bookstore to check out books from your favorite author, then you'll most likely qualify to become a book reviewer.

However, you also need to be a good writer. After reading the book, you will have to write a book review. You should be able to follow the guidelines of the editorial staff. Most editors are busy, so they'll appreciate book reviewers who can create concise, onpoint, and objective perspectives about the book. Make sure not to give out spoilers or discuss the plot twists. Book Trust has a fantastic guide in writing book reviews here.

Additionally, having a sample book review, resume or CV, and website or blog link ready would bevery useful when you're hunting for book review gigs. Some companies require one or all of these, so it's best to have them digitally stored when you apply. If you want to specialize in this niche, it's a good to place all your book reviews in one place so that publishers and authors can easily see if you're a good fit for them.

How much do book reviewers make?
Reading a book can take some time and writing a review will also require some effort and brain energy, so you're probably wondering how much you can make as a book reviewer.

There is no standard rate for book reviewers. According to Career Trend, you may earn zero dollars plus a free book, or $300 per review from top publishers. Those who are employed full-time by a publisher can make a more predictable income.

So as you can see, being a book reviewer isn't always lucrative, and it won't promise steady income. It's a good side hustle for people who enjoy reading books as a hobby, but it probably won't pay your mortgage.
---
Most people who love reading books also love writing. If you also want to make money writing, I highly recommend starting your own blog! I make a full-time income from this blog and I can help you do the same! Check out this detailed, step-by-step guide on how to start a blog and make money from your blog as a beginner.
---
Get Paid to Read Books: Top Publishers That Pay You For Book Reviews
Now let's get down to the list of publishers that hire book reviewers, how much they pay, what they require, and what it's like to work with them.
Related: 15 Inspiring Hobbies that Make Money

One of the most popular book review sites is Online Book Club. Joining the Club is quite easy: just sign up and pick a book you'd want to read and review. The first review you write that's accepted by the editorial staff isn't paid, but all the subsequent book reviews will earn you somewhere between $5 to $60, plus a free copy of the book. Additionally, Online Book Club awards a $25 Amazon gift card for every 30 book reviews you write. .
If you want to get your hands on the best new books even before they hit the market, joining Reedsy Discovery will help you get paid to read books online. Reedsy has a massive library of books by self-published authors, so you'll most likely to find books that you enjoy reading. You won't get paid much, except for tips from authors ($1, $3 or $5). But as you build your reputation as a book reviewer, you can connect with authors directly for book review gigs.
Do you want to know how to become a book reviewer for Amazon? Join Kirkus Media! It is the prime source for book reviews  for books that are sold on Amazon.  Kirkus Media is often hiring book reviewers, so it's great to try your luck here before anywhere else. In your application, mention any relevant experience you have as that may increase your chance of being noticed. Once you get in, you'll have thousands of books from across genres that you can read. After which, you need to come up with a 350-word book review in two weeks. Payments are not specified and will be sent to you by check 60 days after the review is submitted.
Book Browse is another legit company that hires people to read and review books. This company aims to help readers pick out the best books for them by publishing book reviews. If you're wondering how you become a book reviewer for Book Browse, you'll need to fill out a short online form and send them two sample book reviews. According to its website, Book Browse gives book reviewers a modest payment and a byline. However, most reviewers only get to review one book each month.
Publishers Weekly is a weekly news magazine with a core focus on the publishing industry. The company has a long list of book genres that are open for book review including children's books, mystery/thrillers, religion, lifestyle, and tnonfiction, from self-published as well as traditionally-published authors. To work with PW, you need to send your resume and a sample 200-word review. Book reviewers are paid an honorarium, but the amount is not disclosed publicly.
Any Subject Books is a book review website that aims to supply honest and objective book reviews to readers. To do this, the site provides a standard form that book reviewers need to fill in, evaluating the book's style, characters, plot, etc. Any Subject Books is also generous in sending reviewers books in their desired genres. The deadlines for book reviews are mutually decided by the book reviewer and Any Subject Books, and payment varies accordingly.
If you love to read books written by women authors for women audiences, then it's a great idea to work for Women's Review of Books. Women's Review of books has been around for the last three decades, reviewing a wide range of literary works, including poetry, fiction and memoirs, among others.
If you wish to apply, attach one of your best book reviews as a sample as well as your resume. You will be compensated with a PDF issue where your book review appears, one year subscription to their magazine and $100 for every successfully approved book review.
Another reputable book review website is the U.S Review of Books. The company hires freelance book reviewers who can write professional objective reviews of their books. The U.S Review of Books has an extensive selection of books spanning different genres, and they're looking for reviewers who can provide an honest yet objective critique aboutthe book, and not the author. Book reviews should be around 250-300 words and are formatted according to the Chicago Manual of Style. Payment is not disclosed, but according to most sources, the company pays via check once a month.
Booklist is owned by the American Review Association, striving to help readers pick the best books that are worth their time. There are over 8,000 books published on Booklist, so the magazine constantly hires book reviewers. Books are of a wide variety, including fiction, nonfiction and young adult. You can write a book a review of 175 words to 225 words, and receive $15 for every approved book review. Make sure to follow the editorial team's guidelines for writing book reviews to make sure you don't get rejected.
Get Paid To Read Books: Is It Worth Becoming A Book Reviewer?
If you want to get paid to read books, you should first look at these nine places and see where you can possibly land a book review gig. Some of them pay more than the others, but of course, you also have to consider the selection of books they offer. You probably won't enjoy reading memoirs if you love romance novels, right? To make your work as a book reviewer more pleasurable, try to find book reviewer jobs where you can get access to your favorite kinds of books.

All in all, working as a book reviewer is a great way to get paid to read books. You are not just enjoying your hobby, but getting paid for doing what you love. It isn't very lucrative though, so it's probably best to keep this as a side hustle and not your main source of income.
Have you tried working as a book reviewer? If so, how was your experience?
---