How much stuff do you really need in your kitchen?
People have different concepts of how a minimalist kitchen looks like, and it should be because we all have different lives, priorities and passions.
Some people envision a lot of white space while for others, it's a tiny kitchen in a cottage with nothing but just a few necessities. Some focus on the number of items while others focus on the space.
But, whatever your view is, one thing I believe minimalists would agree on is that a minimalist kitchen is a functional kitchen; a congregating area that nurtures people and not a space that houses stuff.
I don't have the perfect minimalist kitchen and in fact, I still have some stuff to toss out. But I am happy to have transformed this messy space in our home into a more functional, nurturing, and less overwhelming area that I love.
So today, let me share with you some tips on how to get started with creating your own minimalist kitchen.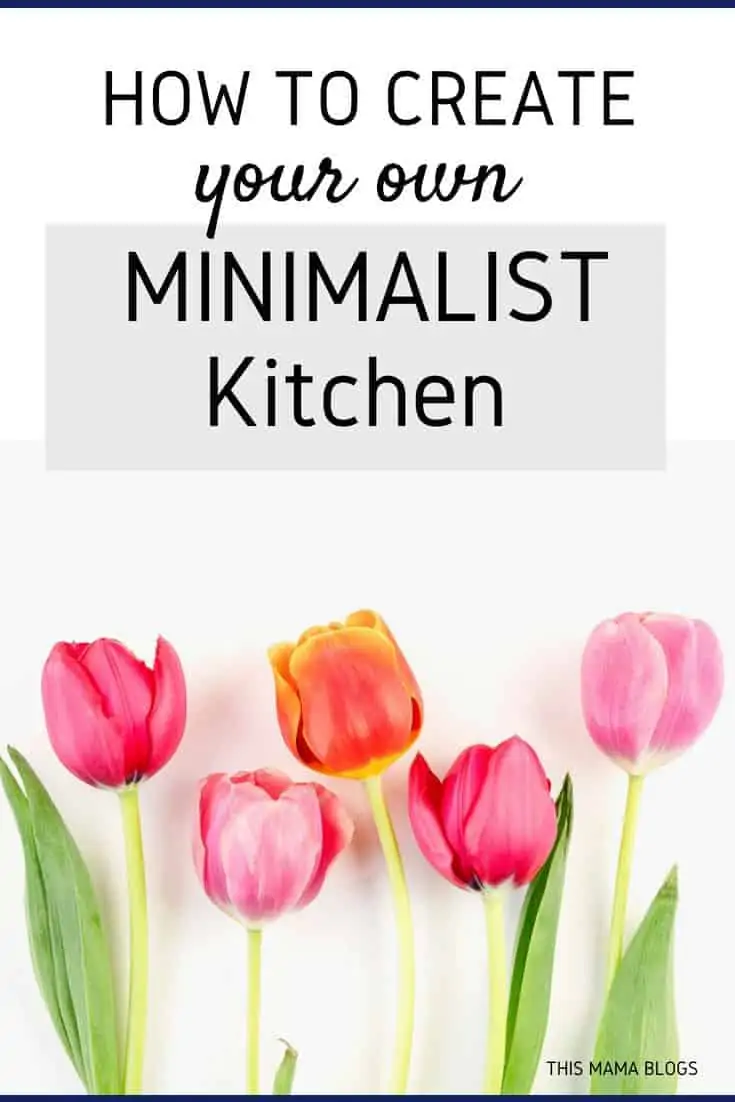 PIN THIS FOR LATER! OR follow me on Pinterest
Note:The featured image above is a stock photo. All the images, except ads, beyond this point are my kitchen's.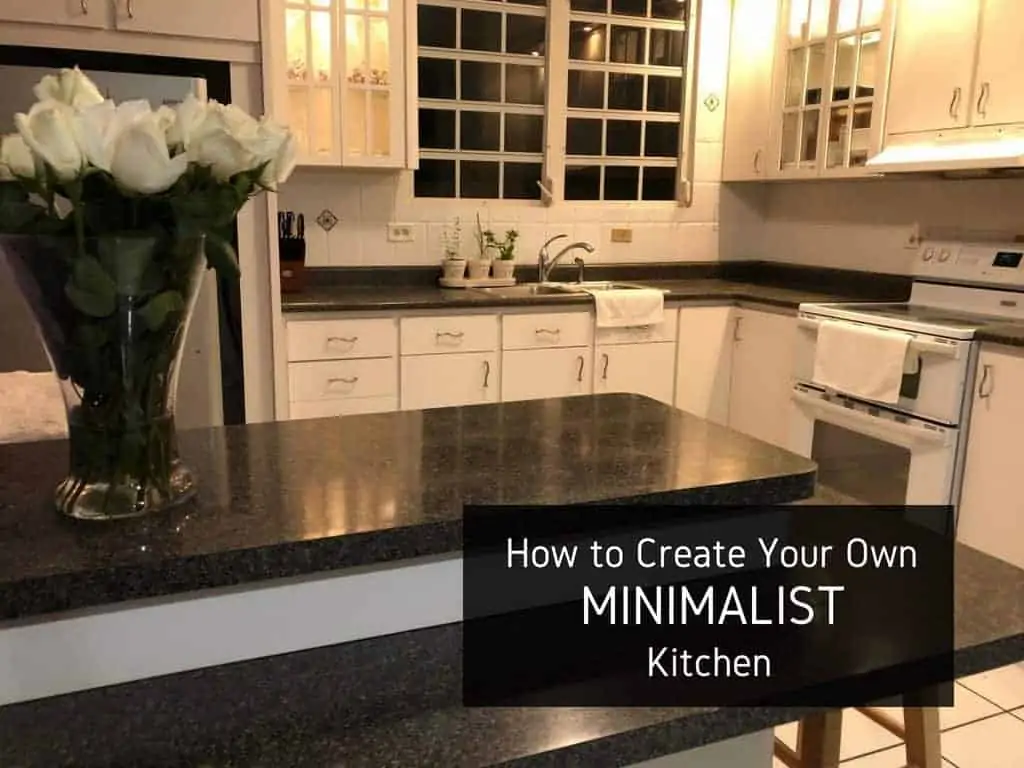 Clear Your Countertop
Having a clutter-free countertop or more counter space instantly increases the functionality of your kitchen. Preparing food will be so much easier without things sitting on the counter, and the cleanup will be easier as well.
More importantly, a clutter-free counterspace not only improves the appearance of your kitchen but also, with less distractions, fosters better conversations.
I've cleared my countertop, hidden my toaster oven in one of the cabinets, and got rid of all the trinkets that used to sit on top of it. It's amazing how this simple trick can make a big difference to the look of my tiny kitchen!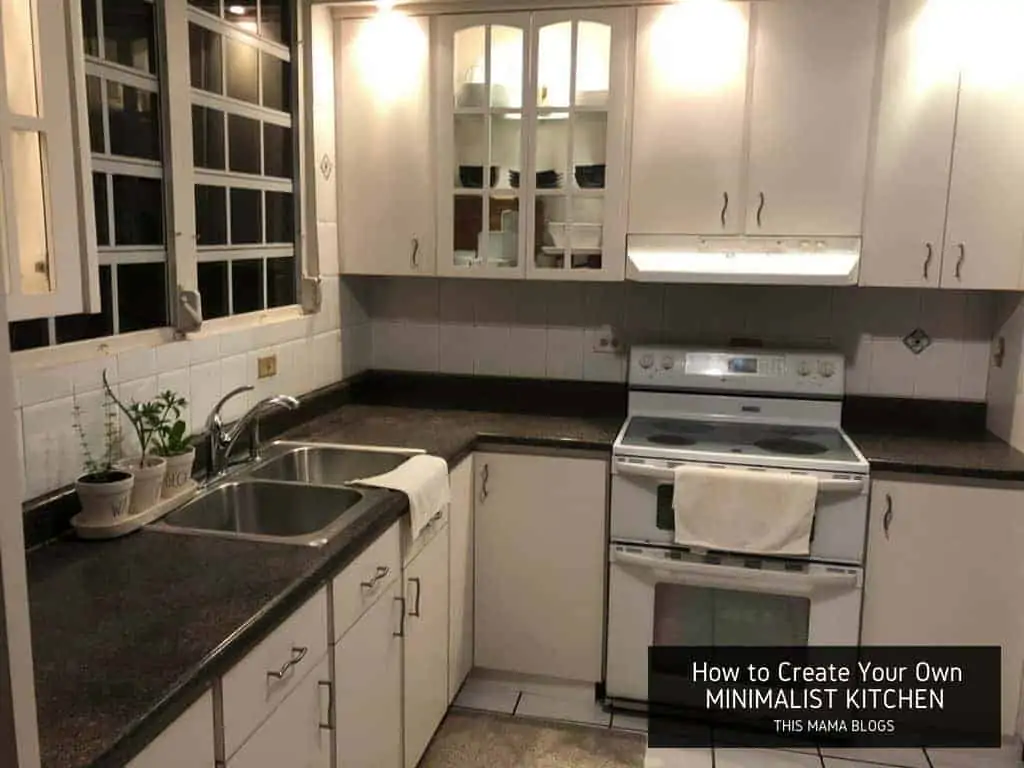 Get Rid of the Doubles
This may not come easy most especially if you love your stuff and you've spent a hefty amount of money to own them. But duplicate items can easily add up to your clutter. Truth be told, it took me a year to get rid of more than half of my extra kitchen stuff.
I used to keep a lot of kitchen utensils in my drawers like I had to feed dozens of people every day. While it was nice to have more, I realized we really didn't need more. And of course, having more stuff means more time organizing.
So, I slowly got rid of the duplicates, one drawer or cabinet at a time.
Start with the following.
Cooking Pots and Pans
Don't know which ones to toss? Here's my criteria.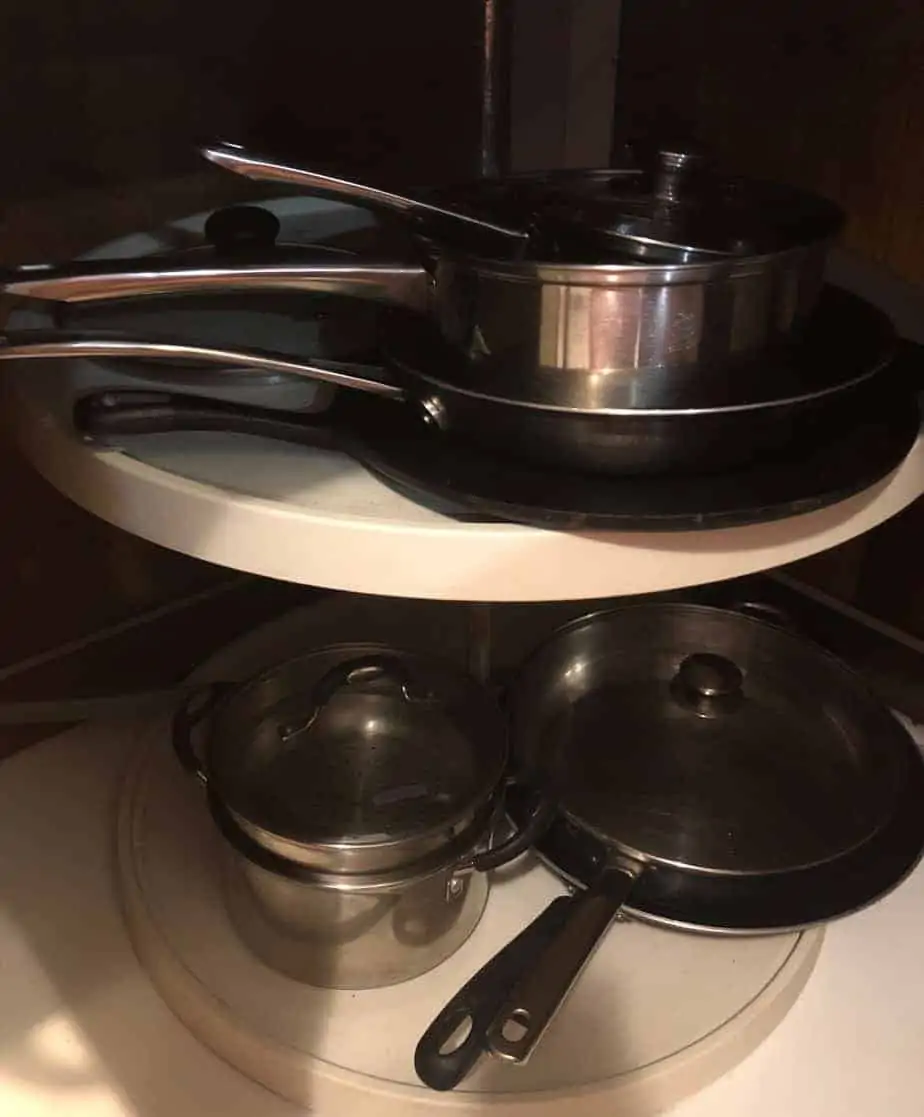 WHAT I HAVE AFTER DOWNSIZING
Utensils
I had drawers full of utensils and over 10 spatulas.  So, each time I needed something from the drawer, I had to rummage through a lot of stuff to find it. I hated it and I knew it needed to change, so I got rid of the ones I didn't actually use.

MY COOKING UTENSILS AFTER DOWNSIZING
Dishes
How much dishes does your family use every meal? I think knowing that number is the best starting point to determining how much you should keep in your cupboard/drawers.
I started with at least 50 plates and now I only keep a few for our daily use in one of the drawers. My rule is 1:1 plus one extra. We are a family of 3 so I only keep 3 plates + 1 extra in the drawer. Same rule applies to our eating utensils (spoon, fork, etc).
MY DRAWERS AFTER DOWNSIZING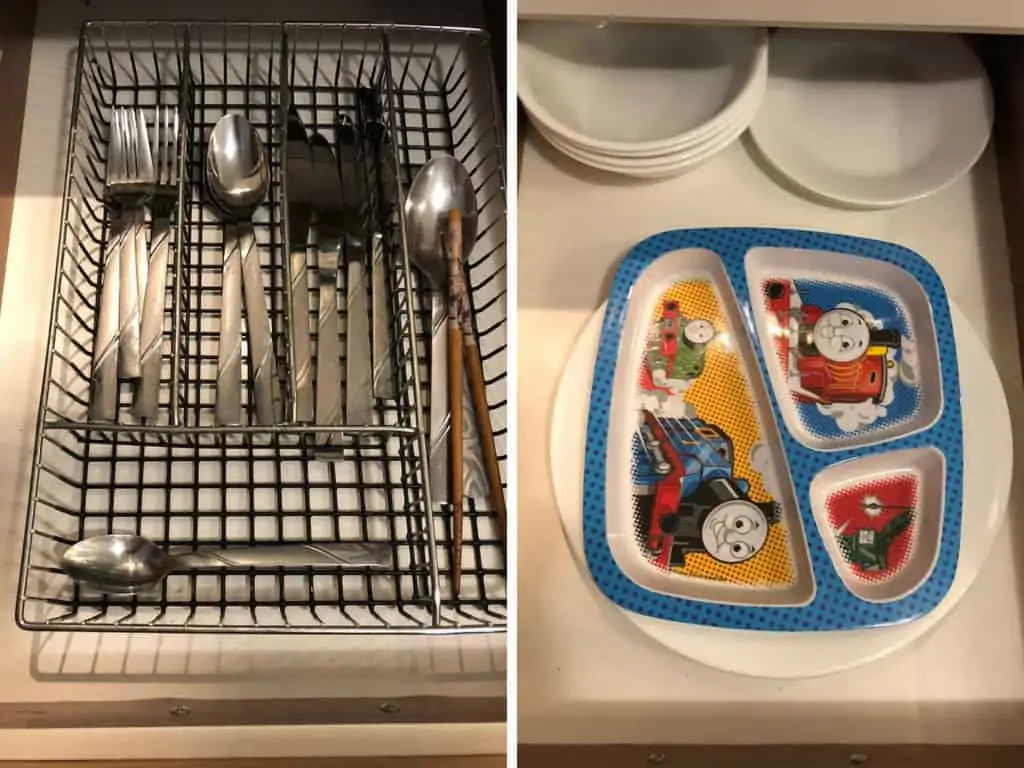 (At the time of taking this picture, some spoons were missing. I believe my husband was using them.)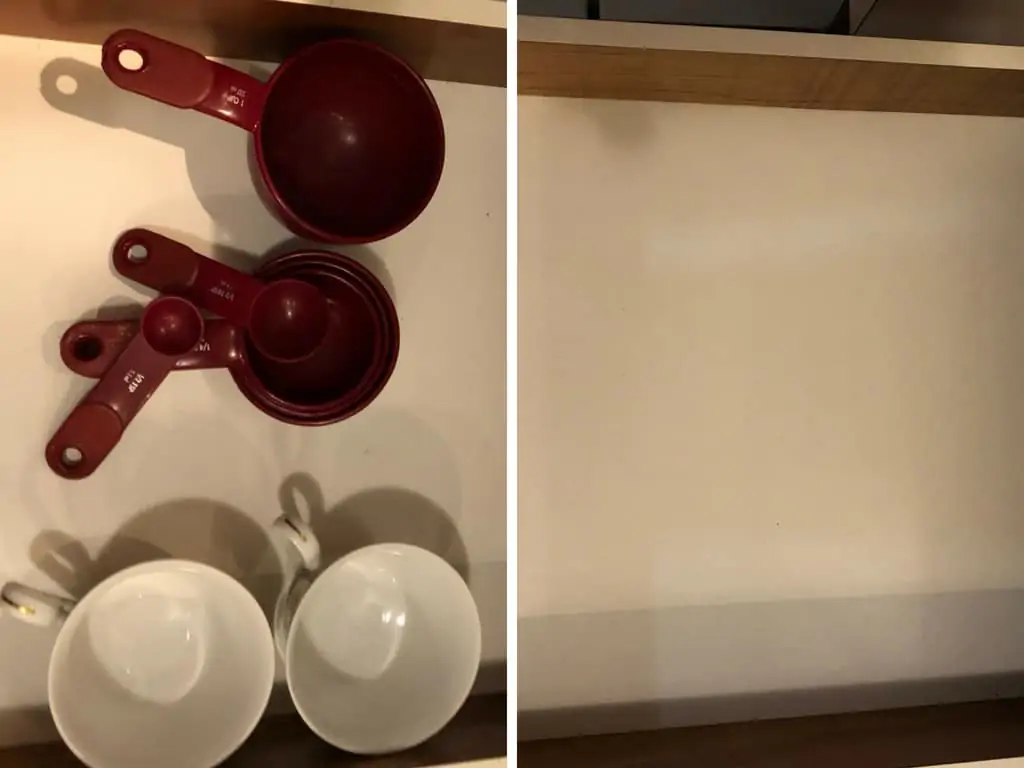 Yes, there's an empty drawer!
I love having just enough utensils within easy access for daily use. My kitchen is now easier to maintain and clean. If the drawers are empty, then that means the stuff are in the sink needing clean up!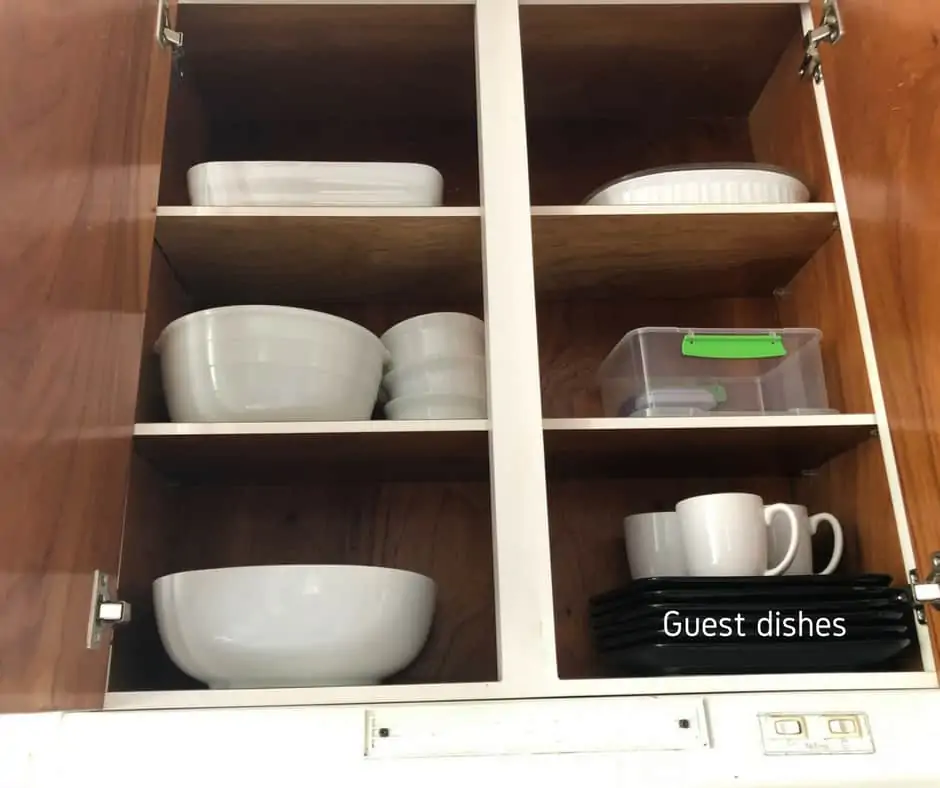 The bowls and trays in this cabinet are multipurpose items. They can be used for baking, serving and mixing food, which eliminates the need for more stuff.
1 In 1 Out Rule
I think that the best way to keep your clutter under control is to also control how much you are bringing into your home. I try to practice the 1 In 1 Out Rule, which simply means if you bought a new set of pot holder, then let go of an old one.
If you don't want to deal with letting go (because sometimes letting go is hard, right?) , then simply don't buy anything new. It does not only help you save money and organize, it is also good for the environment.
Select Small Kitchen Appliances Carefully
There is a ton of small kitchen appliances available today and we are sold on the idea that they can all make our lives simpler. Ice cream maker, double Belgian wafflemaker, all types of blenders, oil less fryer, crockpots of all sizes?  You name it, they have it in the stores.
But do you really need all of them? I know I don't and I know I don't want to keep stuff that will only catch dust.
So, I only keep:
Clean Surfaces Including Your Refrigerator Door
If you've ever heard the art term horror vacui, which means "fear of empty space", that was exactly how I used to treat my kitchen spaces and surfaces, including my refrigerator door. I would put decorative refrigerator magnets from travels, receipts and reminders, bills, etc., on it.
Your refrigerator's door is a surface, too, and putting stuff on it can contribute to your cutter.
I just simply removed all the things I used to stick on it to reduce distractions in my kitchen. Instead I write my reminders in my phone, put the receipts in one place, and got rid of travel souvenirs.
Have a Place for Everything
When every thing in your kitchen has its own home, it is easier to keep your kitchen organized and clutter-free. It will only take you a few minutes putting things back to their place.
I do this at night before bed so I wake up each morning to a clutter-free and clean kitchen.
Add a "Dose of Joy" to Your Kitchen
I am a fan of Marie Kondo who wrote books about tidying and minimalism and one of the things that I love about her approach to tidying is keeping things that spark joy when you touch them.
Popularly known as the Konmari Method, her approach to decluttering is more of a positive process of tidying, which focuses on selecting things that bring happiness to your life instead of the stressful process of selecting which items to throw away.
I konmari'd my kitchen and realized that my idea of a minimalist kitchen isn't just about having empty spaces, although it's a vital element that I'd like my kitchen to have.
I would still love my kitchen to have a few things that also bring me or my family joy.
So I kept some.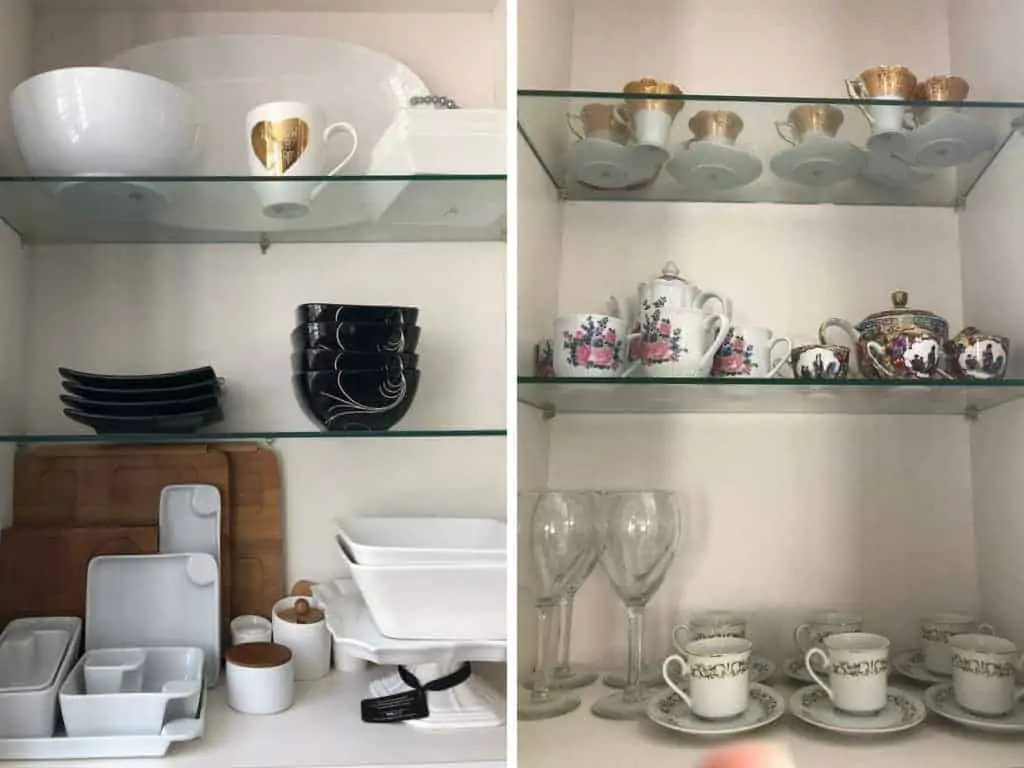 Minimalism isn't set in stone. What brings you joy today may not necessarily be the same things that will make you happy tomorrow. As we go through life, our priorities, passions and preferences change. And so if mine will, the look of my kitchen will likely change as well.
So will yours.
I WOULD LOVE TO HEAR FROM YOU!
How do you describe your own minimalist kitchen?